By now, most of us are well aware of the risks that smoking poses to our health. This knowledge has fueled the popularity of vaporizers of all types, from pens to desktops to portables. The latter is becoming increasingly common, especially among those who like to vape dry herb.
Learn all about buying your first portable vaporizer and check out top list of 2021's best vaporizers to learn more.
---
Our 2021 Top 4 Vaporizers List
Pax 3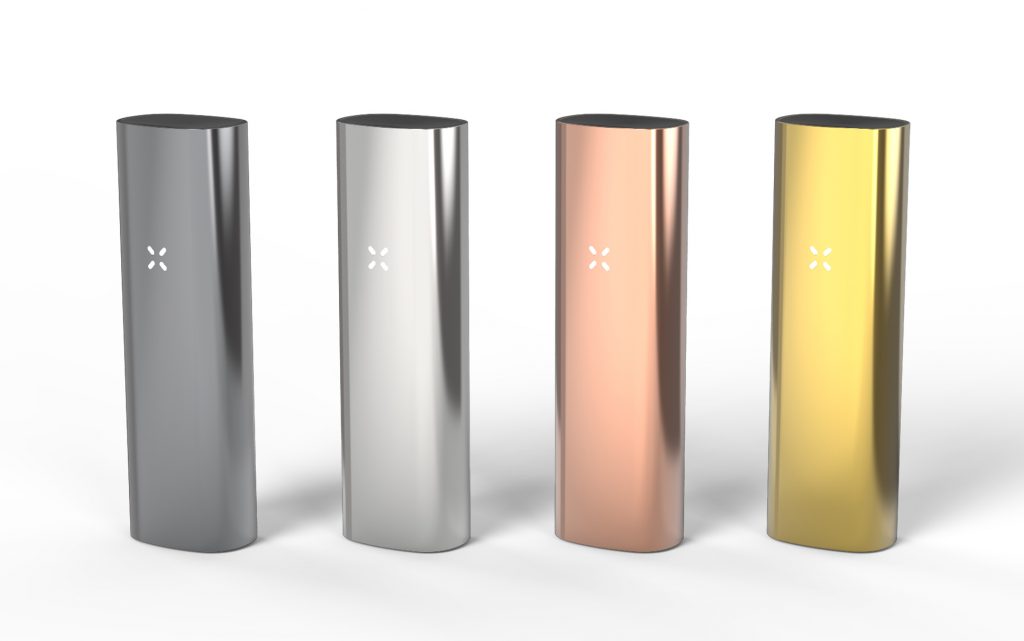 The Pax 3 has a sleek, compact design and is made of anodized aluminum and uses a lithium ion battery (which can be charged via USB or A/C adapter.
It was specially designed to be used with loose plant matter and offers many advantages over its predecessor, the first generation Pax. It has a nice, deep oven and high-capacity battery, which means more vaping and less packing and recharging—which we love! The Pax 3 uses conduction as its heating method, making it less effective, but giving it a warm-up time of under one minute.
For their part, the makers of the Pax 3 have put in special features designed to help you conserve the contents of your vaporizer. The unit detects motion, putting it in standby mode, saving both the battery life and the herb, when it is not being used.
Perhaps one of the best qualities of the Pax 3 is that it is easily concealable; for too long, vaporizers have been bulky, conspicuous things.
Because this is a conduction vaporizer, it is not particularly well-suited to being your everyday vaporizer, especially if you vape a lot throughout the day. However, its deep bowl and extra-long battery life make it perfect for marathon sessions or when you are within a large group of people, all of whom are puffing off of your vaporizer. Concerts, parties, bonfires—these are the types of places where the Pax 3 will be able to really shine.
Between its price (around $240) and its features/capabilities, the Pax 3 is the best value in portable vaporizers (read more in our Pax 3 review).

The Mighty Vaporizer

The Mighty is a convection/conductor vaporizer hybrid, making it great those looking for efficiency as well as speed. It also has digital controls that allow you to precisely set the temperature electronically. This makes it one of the more consistent vaporizers that we have reviewed. The Mighty uses a dual-lithium ion battery pack that is charged via A/C adapter, giving it exceptional longevity. However, the Mighty is not without its flaws. For one, it is quite large for a portable vaporizer; while it may fit into your pocket, the overall experience will not be comfortable. Its thick, chunky body and weight make it rather noticeable (but that is the price that you pay for that extended battery life; you simply have to decide which is more important to you.)
We really liked how easy this vaporizer is to use. It's self-explanatory; even the newest vaper could probably figure it out. You just fill up the chamber, adjust the temperature, and wait for it to heat up. When the unit vibrates, you know that it is ready to be used. And perhaps most importantly, we found the vape quality to be simply fantastic. The taste was delicious and it went down smooth and clean, with no burning or fits of coughing. So often, a good draw is only attainable after a little practice and some time to get to know the machine, but that is not the case here. Right out of the box, the hits were easy and tasty.
The Mighty's size makes it rather ill-suited for daily usage, especially if you are trying to keep your vaping habits to yourself. It fits well into a backpack or large purse, but this isn't a pocket vaporizer; it is just portable. We think that the Mighty's qualities put it firmly in the "for group use" pile of vaporizers. Its large size and design is easy to hold and easy to pass around from person to person and its extended battery life makes it ideal for periods of long usage, which is what happens when multiple people use a vaporizer. Additionally, the outside stays cool, allowing everyone to enjoy their vaping experience, rather than playing an unwanted game of "hot potato". Out of all of the vaporizers that we tested, the Mighty had the best vapor quality, but its size and shape cause it to lose functionality as a portable vaporizer. The complete set for the Mighty Vaporizer will cost you about $400 (save 15% off with coupon code BESTNOW15).
Save 20% With DUDE20 Coupon
The Crafty+ Vaporizer

Made by the same people who brought you the Mighty Vaporizer, the Crafty Vaporizer is much like a smaller version of that unit. For those who were turned off by the Mighty's size and bulk, they may find the Crafty much more to their liking. It uses the same heating method as the Mighty, combining convection and conduction for efficiency and speed.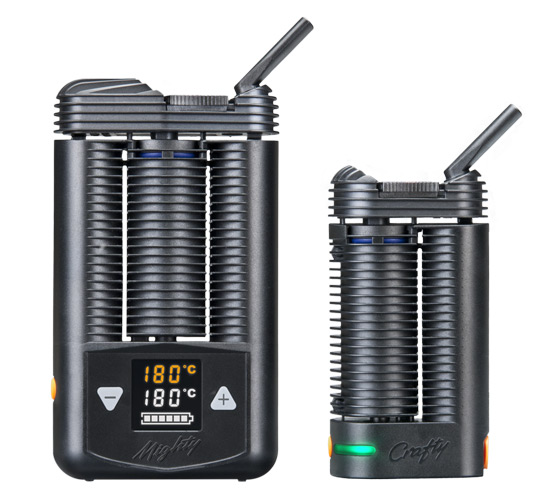 Unlike the Mighty, the Crafty does not have an LCD display and digital controls.
Instead, users can control the temperature of their vaporizer by using a special smartphone app, the Crafty Remote Control App.
It lets you customize your Crafty vaporizer to your exact specifications as wells as check the battery's status and alter the unit's alarm and vibration settings, through the wondrous powers of Bluetooth.
This is a great idea (and it was executed well); we love not having to sacrifice customizability for a manageable size and vice versa. In fact, we were pretty impressed with the build in general; the unit is sturdy and made of rigid plastic, fits in one hand and, due to its vented design, is very easy to grip.
Of course, what is most important is the resulting vapor that the Crafty creates—and it is amazing. It's almost indistinguishable from the vapor produced by our desktop models, which is high praise, indeed.
With a lot of vaporizers, on higher temperatures, the vapor often tastes like burnt popcorn and scorches the lungs, but this is not the case with the Crafty.
Every draw is very mellow and easy; it is not harsh on the lungs at all, which is a quality for which everyone should be thankful.
However, because the unit removes so much heat from the vapor, the body of the vape can be a little hot to the touch, so those with sensitive fingers should be careful.
Overall, the Crafty Vaporizer is definitely amongst the best portable vaporizers, smaller than the Mighty and a little cheaper, but with no reduction in quality.
Save 20% With DUDE20 Coupon
Arizer Air

The Arizer Air is the newer and smaller version of the highly-acclaimed Arizer Solo, which has long been a favorite within the vaping community.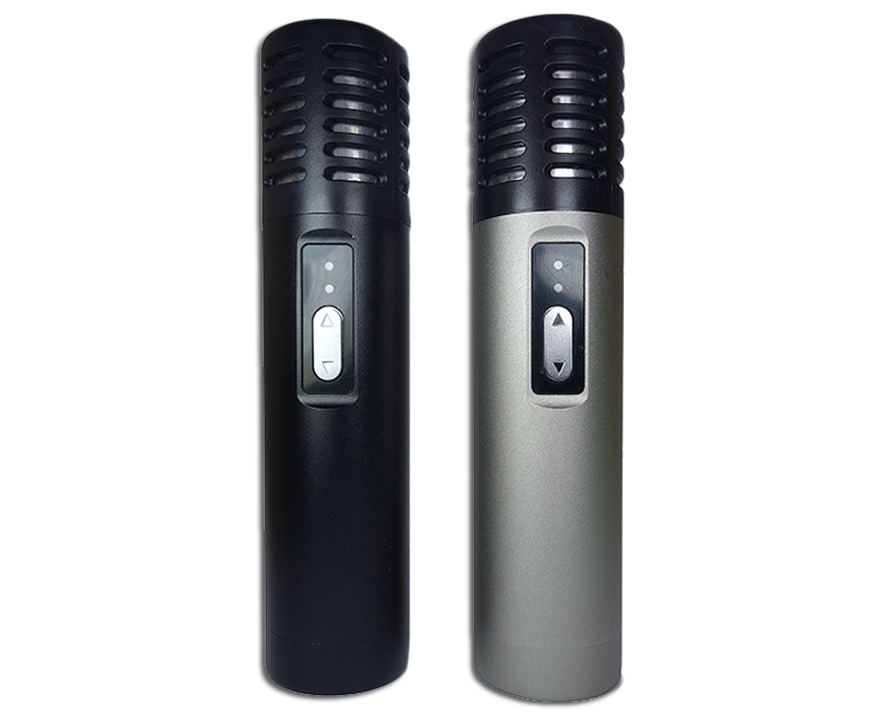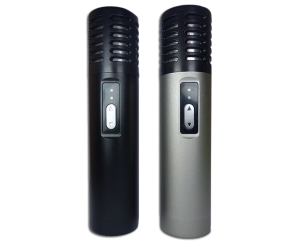 The first thing to notice about the Arizer Air is its build quality.
Take it out of the packaging and you'll notice that it has a very sturdy feel to it; nothing on it seems cheap. This doesn't mean that it can take a lot of abuse and we do not suggest you test it because the Arizer Air uses glass stems, which, obviously, can be a little fragile. Fortunately, this vaporizer is very easy to hold in your hand as it is shaped like a cylinder and slender enough that a normal-sized adult human hand can fully curl its fingers around the body.
If you have deep pockets, the Air will easily fit inside of them, but because of its length, those with pockets lacking in depth may need to find another place to store it.
The Arizer Air does not afford its users as much control over the unit's temperature, but it does give them five preset options that range from 356F to 410F, which is enough control for most people. After the digital readout screen for the Mighty and the app controls for the Crafty, the controls on the Air took some time to get used to. There are two arrow buttons and two LED lights; pushing the up or down arrow button will change the color of the top LED light. The light's color indicates the temperature setting.
The battery life on the Air isn't amazing, but it isn't terrible either.
You should be able to get several vaping sessions in before you run out of power. The cool thing is that the batteries that Arizer uses are replaceable, which means you can take them out and swap them with a fully charged battery and never have any downtime in between. The Air also supports pass-through charging, which means that you can use it while it is charging.
Unlike the Pax 3 and the Mighty Vaporizer, the Arizer Air is better for personal, daily use than it is for crowds. This isn't a unit that you want to be tossing around from person to person; it's one that you will want to keep safely on you. Plus, it is highly efficient, which is what you want from a daily use vaporizer. While it has fewer features and options than the Mighty or the Crafty, it is also much cheaper and, in our opinion, has a much better design than either of them. The Arizer Air is a great buy that improves upon the already impressive legacy of the original without jacking up the price or sacrificing quality.
[alert-success]The 2021 Top Portable Vaporizers Comparison Guide[/alert-success]
| | | | | | |
| --- | --- | --- | --- | --- | --- |
| | ARIZER AIR | CRAFTY+ VAPE | FireFly 2 | MIGHTY VAPORIZER | PAX 3 |
| Price Estimate | $199.00 | $249.00 | $279.00 | $299.00 | $220.00 |
| Heating Method | Hybrid | Hybrid | Hybrid | Hybrid | Conduction |
| Used With? | Dry herb | Dry herb | Dry & Wet | Dry herb | Dry herb |
| Dimensions | 122mm x 29mm | 11.0 x 5.7 x 3.3 cm | 5.1" x 1.4" x 0.95" | 14.0 x 8.0 x 3.0 cm | 3.87 x 1.21 x 0.85 |
| Weight | 340g | 135g | 140 Grams | 235g | 90g |
| Power Source | Removable and rechargeable 18650 battery | Single lithium-ion battery; micro USB adapter | Rechargeable Lithium-Ion Battery | Dual lithium-ion batteries that recharge using an A/C adapter. | Lithium-ion battery charges via USB or A/C wall adapter |
| Pass-through Charging? | Yes | Yes | Yes | Yes | No |
| Controls | 5 preset temperature options controlled via two buttons; no digital readout, it uses colored LED lights instead. | Temperature and other settings are controlled through the use of a special app and Bluetooth technology | 6 preset temperatures (340, 360, 380, 400, 420° F, and concentrates) | Digital readout includes battery life and temperature, which is controlled via up and down arrow buttons. | 4 temperature settings and LED light indicator |
How To Choose The Right Vaporizer For You
A little refresher here. There are three major types of vaporizers: pen, portable, and desktop.
The variety that you need depends on where and what you are planning to vape.
Pen vaporizers are the cheapest type of vaporizer available (though a high-quality pen may cost more than a lower-quality portable or desktop) and are mainly used for vaping wet material, such as oils, concentrates, and e-cig liquids. They are lightweight, easy to use and very discreet.
Portable vaporizers are a little larger than their pen counterparts and are also more expensive. But this higher price comes with more features, greater capabilities, and cleaner vapor. Portable vaporizers are mainly used to vape dry materials and use convection heating, facilitated by a roomy heating chamber and a battery.
Desktop vaporizers are for vapers who do most of their vaping at home and who want the best vaping experience available. Desktop vapes are designed to stay in one place close to an external power source. They are typically the most expensive, but can offer the best vaping experience as far as quality. Those who like to indulge in long vaping sessions often find desktop models preferable because they plug into an outlet, so there are no batteries to charge and replace.
Budget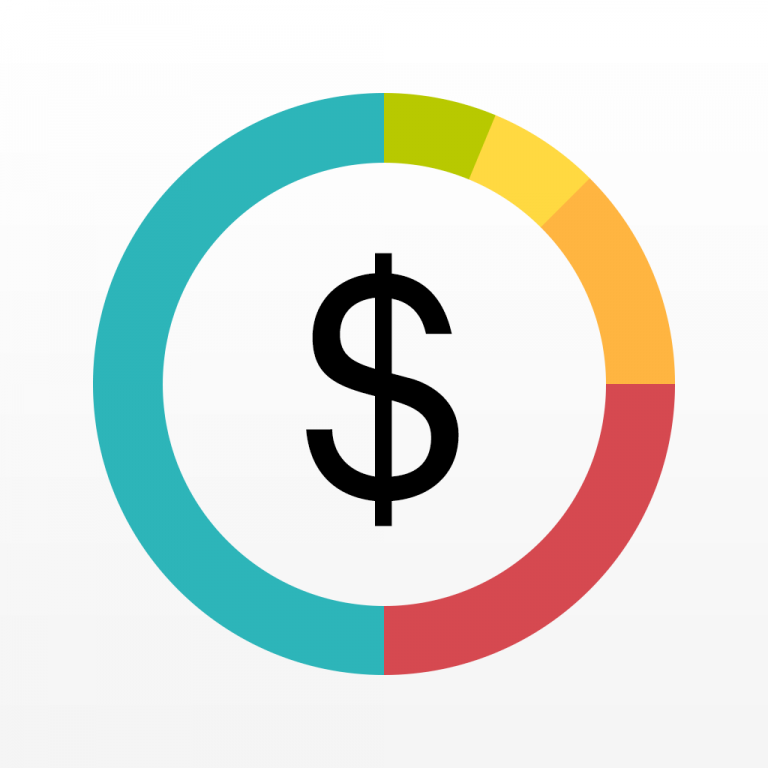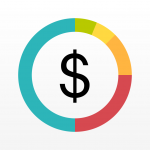 Decide on your budget before you start looking for a portable vaporizer.
They are available in every price range, though the difference in the cost does affect the quality and features that you will receive.
[alert-note]Convection or Conduction[/alert-note]
Different portable vaporizers use different heating methods, either conduction or convection. (And you thought you would never need chemistry after high school)
Convection 101
Convection is a process by which heat is transferred by taking advantage of hotter air's tendency to rise. In other words, when something emits hot air, that air will rise up as far as it can, leaving cooler air at the bottom, thus resulting in the transfer of heat. Convection vaporizers take advantage of this natural phenomenon by passing hot air through the chamber, thus heating the material inside of it. This only happens when you are drawing; the rest of the time, the contents of the chamber are not in contact with the heat source.
Pros
Uses less herb because convection only heats the material when you draw in a breath
Even heating
Low risk of combustion
Easier to control the temperature
Cons
More expensive
Warm-up time is slower
Conduction 101

Conduction is a process by which heat is transferred through contact between a heat source and an object with a cooler temperature. When this occurs, the hotter object transfers some of its heat to the other until they are of equal temperature. In conduction vaporizers, the herb is in constant contact with the heat source.
Pros
Less complicated and, therefore, less expensive
Warm-up time is much quicker
Cons
Greater combustion risk
Requires stirring, as the herb does not heat evenly
Newbies may have issues operating it effectively
Harder to control the temperature
How Do You Know Which Method Is Right For You?
Convection vaporizers are usually considered to be the preferred type, due to their economical use of herb and the greater amount of control that is given to the user. Many often say that the taste and experience is better. This does not mean that conduction vaporizers have no place in the market; their lower cost and fast warm-up time are extremely attractive and, as long as you know what you are doing, you can operate these effectively as well.
[alert-note]Power Source[/alert-note]
Portable vaporizers can use one of several different types of power sources, with some being more common than the others.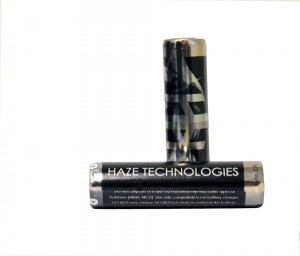 Battery
The most common power source for portable vaporizers is the battery.
They can be either replaceable or rechargeable. In a vaporizer powered by rechargeable batteries, the power source is built into the design of the machine, much like the battery in a cell phone. While it is convenient to not have to carry around extra batteries, if the power source in a rechargeable unit fails, it almost always has to be returned to the manufacturer, which can be a major hassle.
Flame
Flame vaporizers require the user to heat the unit and, thereby, the herb, much like one would when using a regular pipe. The difference is that instead of combusting the herb like a traditional pipe, you are vaporizing it. These models tend to be cheaper, but they are also convenient for quick vaping sessions.
Butane
Butane-powered vaporizers are great for off-grid users who do not have access to electricity. The user burns butane to heat up the vaporizer's element, and then you're good to go.
[alert-note]Control[/alert-note]

Vaporizers allow their users a varying amount of control over their vaping experience. The extent to which you can customize your vaping depends on the type of controls used by the portable vaporizer.
Fixed Temperature
Fixed temperature vaporizers are the simplest iteration because there are no controls. The temperature is set at a certain point and there it will stay until it breaks or wears out. With the user must conform to the vape, rather than altering it to suit their needs.
Analog Dial
A portable vaporizer controlled via analog dial is controlled by a knob that the owner must turn in order to set the temperature. In some cases, the dial will be marked in graduated steps, giving the user many different temperatures from which to choose. Others will simply have several pre-set options (like high, medium, and low setting) to which the dial can turn.
Digital Control
For the most precise temperature control, you have to go digital. These are usually found on more expensive units in the form of a digital display. This allows you to totally fine-tune the temperature to the precise degree that you want.
Latest Vaporizer Reviews