Rio Rig-In-One Rating
Vapor Quality -

9.2/10

Portability -

9/10

Value -

10/10
The Rio Dab Rig is an e-rig from Stache Products that combines portability, durability and style. Other e-rigs have weak batteries and coils that quickly burn out. The Rio fixes these problems by offering a solid dab rig that delivers a superb dabbing experience. No coil. No batteries. No electronic parts that break after just a few uses.
Let's take a closer look at the Rio and how it works.
The Rio Dab Rig Features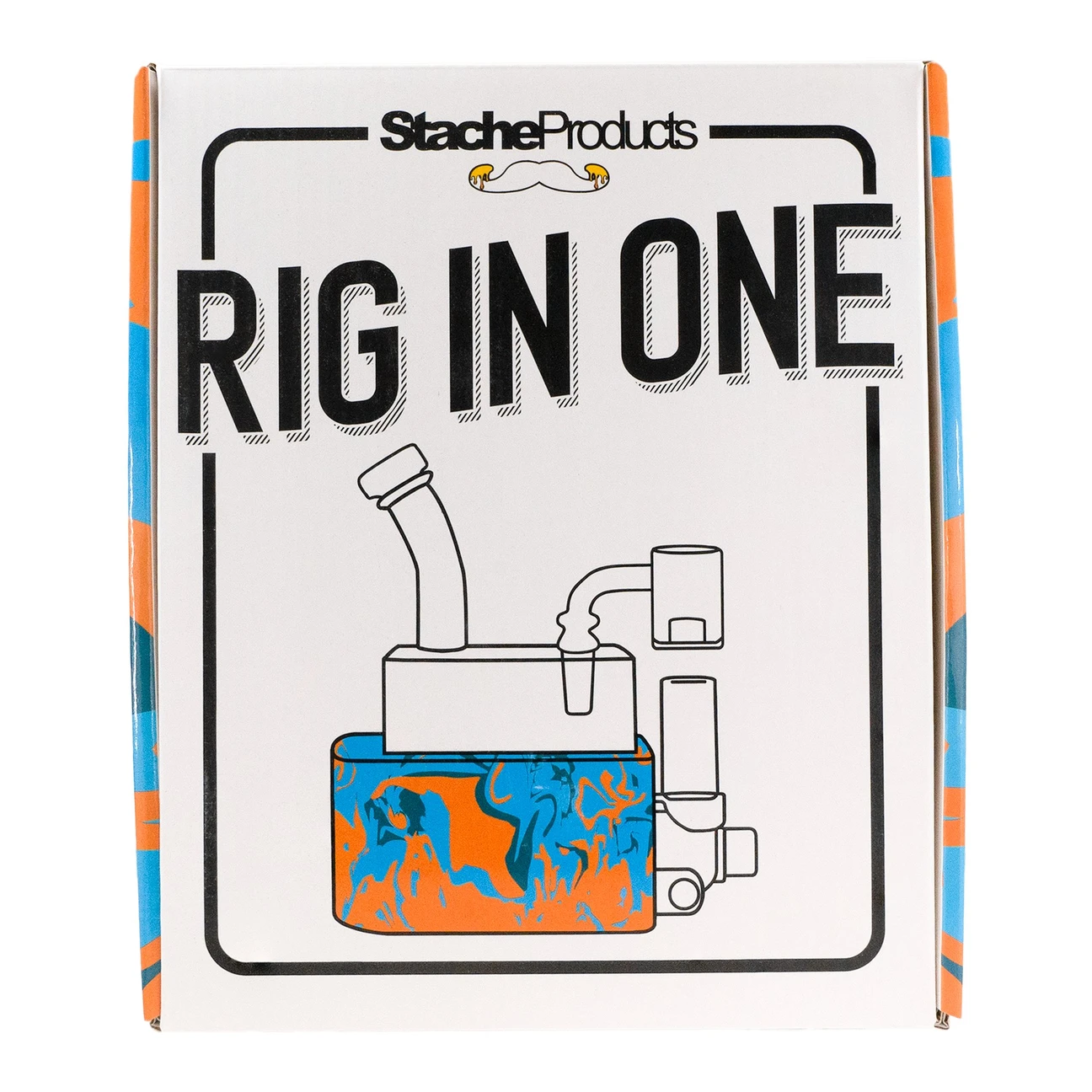 The Rio Dab Rig is built to last and incorporates features that enhance the dabbing experience. With a durable, sleek design and easy use, this portable e-rig is quickly becoming a cult favorite.
Rather than using the usual battery and coil setup, the Rio uses a butane torch to heat up your concentrate. It's a simple design, but it's convenient, easy to use and highly durable.
Here's what this cold start vaporizer has to offer:
Durable, Sleek Design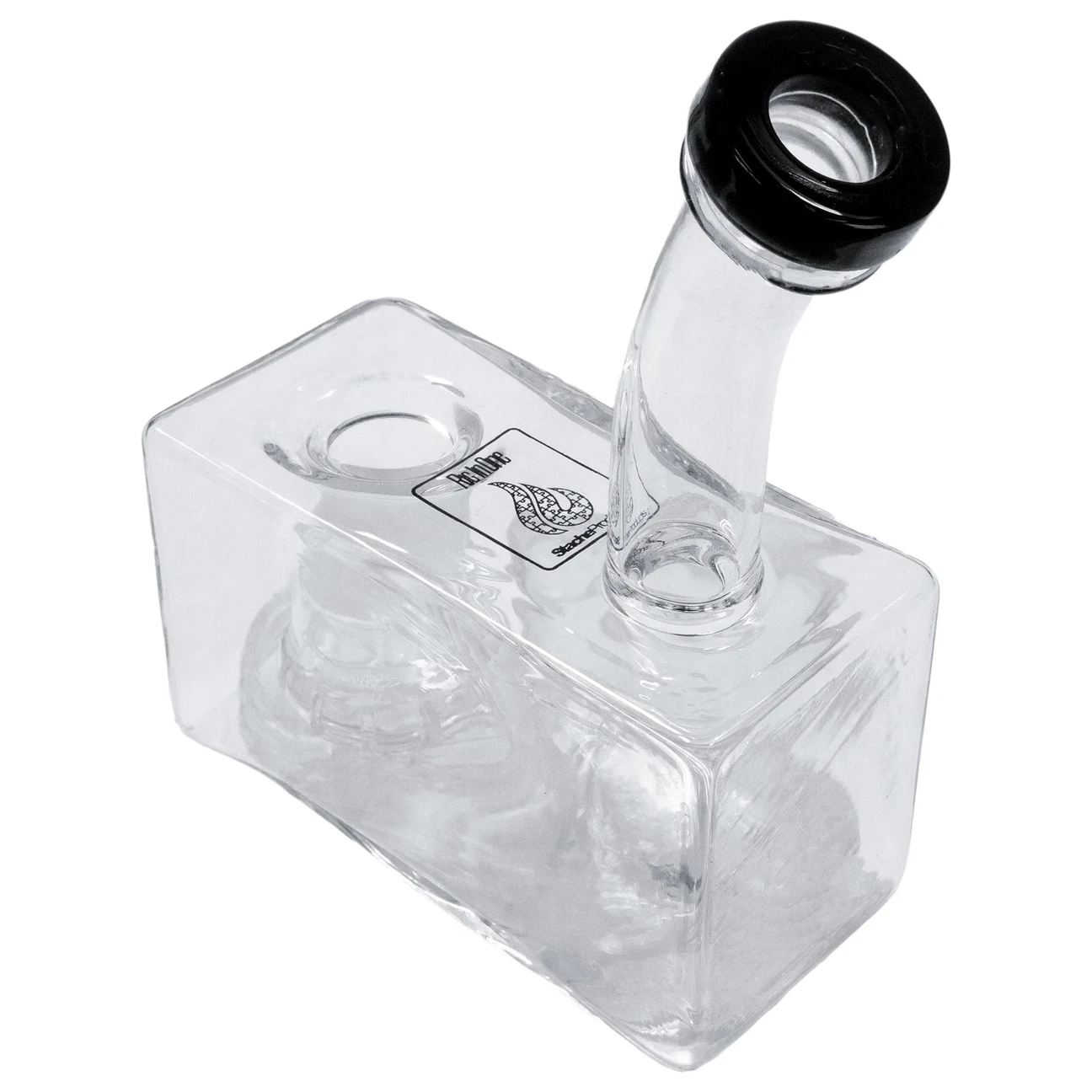 The Rio is smartly designed to correct some of the big issues that users have with dab rigs. Rio has a recessed female joint that protects its quartz banger. It's also fitted with a showerhead percolator that filters your vapor through water before it hits the mouthpiece. The flared mouthpiece is ergonomically designed to make each draw as comfortable as possible.
The Rio comes in a wide range of colors and designs. The base protects the e-rig, but it also contains a refillable butane torch that heats up the quartz banger nail. The banger nail sits just above the torch, allowing you to hit the perfect temperature with each dab.
The thick borosilicate glass makes the Rio highly durable, and the cube-shaped bottom protects the rig.
Portable and Easy to Use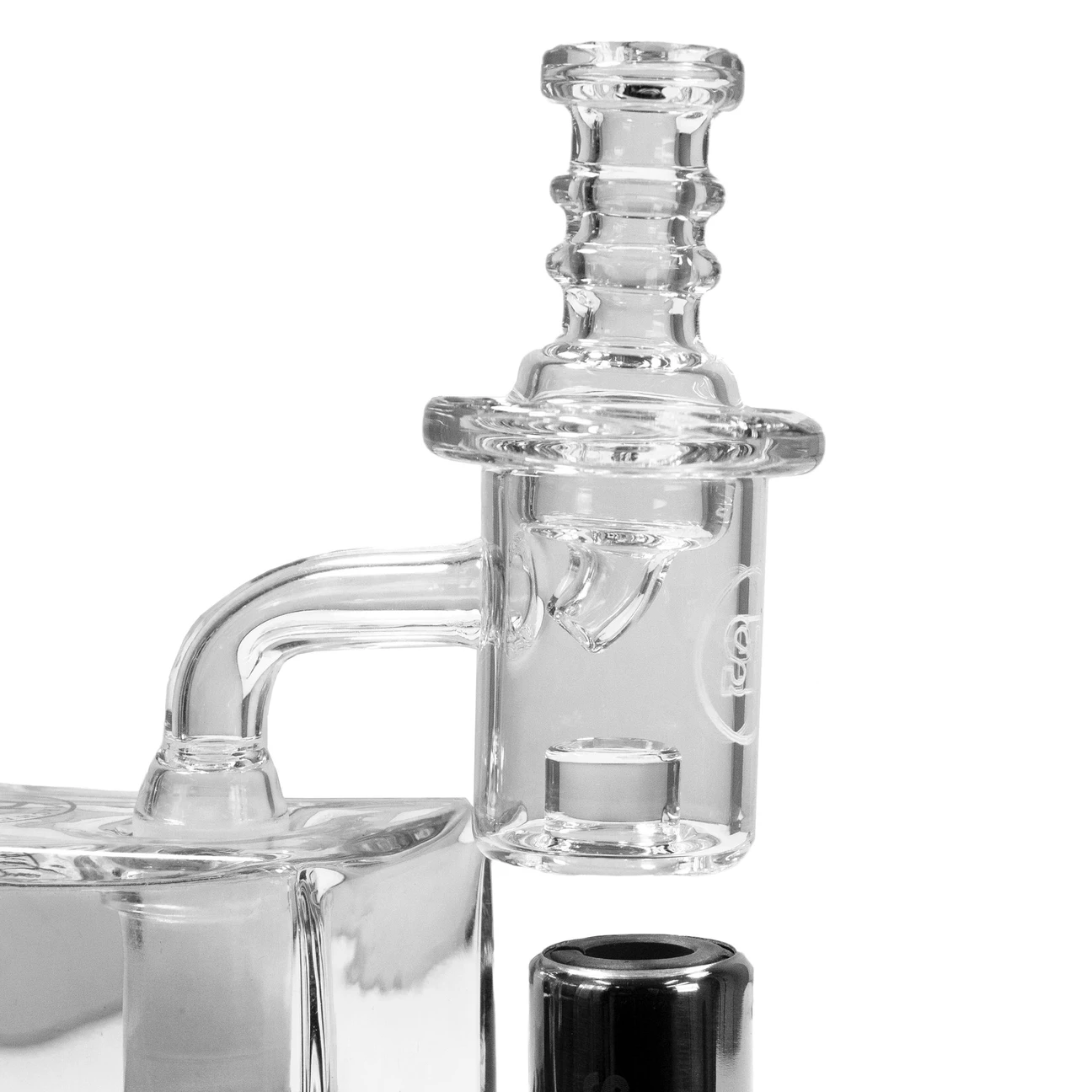 The Rio is perfectly portable thanks to its compact design. The e-rig stands just 6.5" tall, making it nearly pocket-sized. The rig also comes with silicone plugs to help contain odors and allows you to travel with water inside of your e-rig.
Stache Products even includes a zippered carrying case with foam inserts for easy, safe and convenient travel.
The Rio's simple design is what makes it so easy to use. Here's how it works:
Place your material into the quartz banger.
Light the butane torch.
Adjust the flame to your desired level.
Wait about 20 seconds for the material to melt and start bubbling.
Draw!
The adjustable flame gives you more control over your dabbing experience. If you want a warmer draw or you're using more material, you can allow it to heat up a little bit longer before taking a draw. If you only have a small amount of material or like cooler draws, leave the flame on for a shorter amount of time.
The great thing about using a butane torch is that you can always reheat your material if you want.
If you want to kick up the flavor and intensity, twist the carb cap to bring more of your material to the surface. If you want more vapor, just cover the hole with your finger.
Efficient Design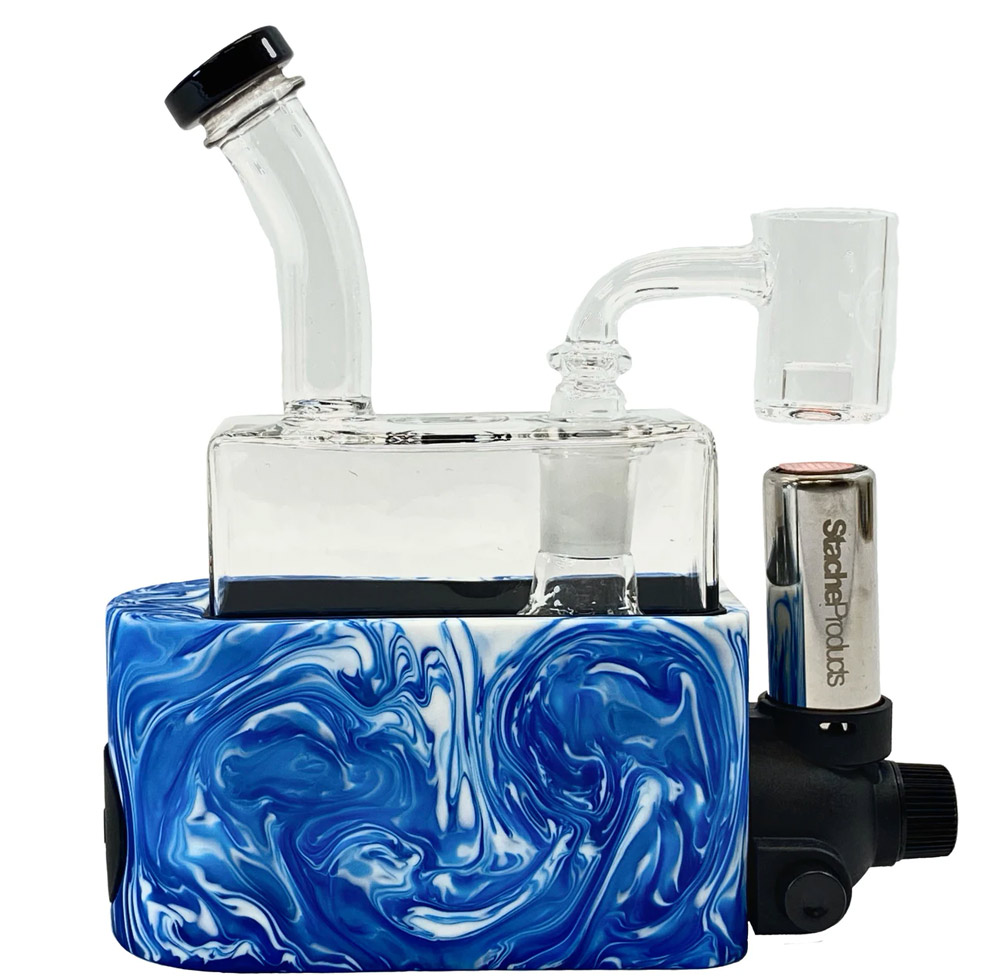 The Rio comes with a carb cap, called the Puddle Pusher, that helps you get the most out of your concentrate. The rig also comes with a titanium dabber tool. Since the Rio is fully modular, you never have to worry about:
No hassles or problems make this one of the easiest models to use. And if you're into the awesome designs, you can swap out the resin base.
---
The Pros and Cons Of Stache Products Rio
Pros
No batteries to worry about charging or dying
No coils that need replacing
Produces thick, delicious clouds for a punch of flavor
Comes with a neat kit and everything, but butane, to get started
Cons
Minor quip here but it doesn't come with butane, so you'll need to supply it yourself
If you're looking for a true portable dab, this is it.
Rio Dab Rig hits like a train with thick, fluffy clouds. Right out of the box, you'll notice that the rig is sturdy, durable and doesn't need coil changes. It's a low-maintenance model. You can slide the torch quickly out of the body, too.
When filling, it's similar to any other torch you've used.
The best part? The cold start dab rig with built in torch doesn't require frequent refills. If you casually dab, you can go almost a week before refilling. Of course, heavier usage will mean faster refills.
Want your own, handheld cold start vaporizer with massive flavor or thick clouds?
Rio Dab is a one-of-a-kind product by Stache that looks and feels immediately different. Choose from seven colors, enjoy great flavor and purchase from a company that has unrivaled customer service.
PuffItUp is the place to go for high-end products.
You can buy the Rio Dab Rig directly from PuffItUp (we linked it for you below), and get free shipping while you're at it. You'll even get a one-year, limited warranty on the Rio Dab.
Click here to purchase the Rio Dab Rig from the most trusted authorized seller.