The Mighty Vaporizer is one of the portable vaporizers from Storz and Bickel, the maker of some of the most popular vaporizers including the Volcano.

Save 20% With DUDE20 Coupon
The Mighty is the bigger version of the Crafty and while it is not exactly pocket-friendly, it is a solid and consistent performer and a great option for those who don't mind a bulkier unit.


The Mighty is a conduction-convection hybrid portable vaporizer powered by dual lithium-ion batteries.
It is, without a doubt, one of the most powerful vaporizers of its kind, as well as one of the most expensive, costing around $400. Like the Crafty, it has a rigid plastic body that is mostly covered in heat vents, although the Mighty also has a digital display and temperature controls on its front. It measures 14.0 x 8.0 x 3.0 cm and weighs 235g, making it one of the larger and heavier portable units available.
Mighty Vape Pros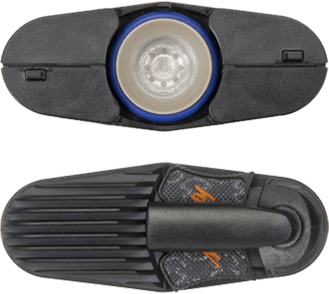 Pass-through charging
The Mighty can be used and charged at the same time, much like the Crafty. The difference is that with the Mighty, the battery can be completely drained and you can still vape with it, while with the Crafty, there needed to be at least 20% power left.
Consistent, high-quality vapor
The Mighty produces a vapor that would make some desktop vaporizers envious. Draw after draw, the Mighty creates clouds of smooth, potent, great-tasting vapor. Its output is pretty amazing, especially for a portable unit. And the vapor that is produced is always cool, so no scorched lungs or coughing fits.
Digital display and precise temperature control
The Mighty is big enough that its body can accommodate both a digital display that tells you the temperature and the battery life as well as the controls to manipulate the temperature down to the degree. You can do this with the Crafty too, but it requires the use of an app. We much prefer having everything we need directly on the vaporizer.
Mighty Vape Concerns
Bulky
It's hard to imagine pulling out the Mighty in public and vaping like you would with a less conspicuous vaporizer. The Mighty's design is bulky, almost like a walkie-talkie, and very noticeable. It might fit into your pockets if you have giant pockets, but for anyone else, it'll be a tight and uncomfortable fit.
Mighty vs Crafty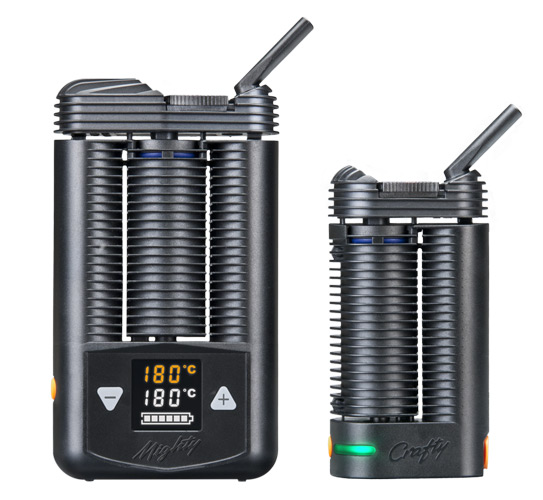 While substantially smaller than The Mighty unit, The Crafty holds it own in terms of flavor and vapor quality.
However, it does have about half the battery life.  
That means the choice will come down to longer battery life and a larger overall size (Mighty) vs more portability but with less battery life (Crafty).   In our opinion, you cannot go wrong with either model or any Storz & Bickel model vaporizer.
How Much Does The Mighty Cost?
Price
The Mighty costs around $349, which is a great deal more than most other portable vaporizers. Yes, Storz and Bickel products are always of the highest quality, but that is still quite a hefty price tag. If budget is your main concern, you can get similar performance from other Storz and Bickel portable units.
Especially when you consider its 90-minute battery life and the fact that it is portable according to the definition—you can move it around and vape wherever you want—but not so much in practice, due to its noticeable size.
However, there is no doubt that the increased size helps with better vapor quality and improved performance.
Our Mighty Vaporizer Verdict
The Mighty has the best vapor quality out of every portable vaporizer that we have tested, so if that is your main concern, then get the Mighty because you will not be disappointed.
In fact, aside from its size and price, the Mighty is an ideal portable vaporizer, providing precise temperature control, user-friendliness, and a sturdy, efficient design that promises to consistently produce potent, smooth vapor for years to come.