Want a vape that actually fits in your back pocket? The Fury 2 from Healty Rips has you covered.
Easily one of the most compact vapes out there (2" x 1" x 3"), the Fury 2 uses a mix of conduction and convection to heat your material. It also offers a long run time that will keep you going when you're on the move.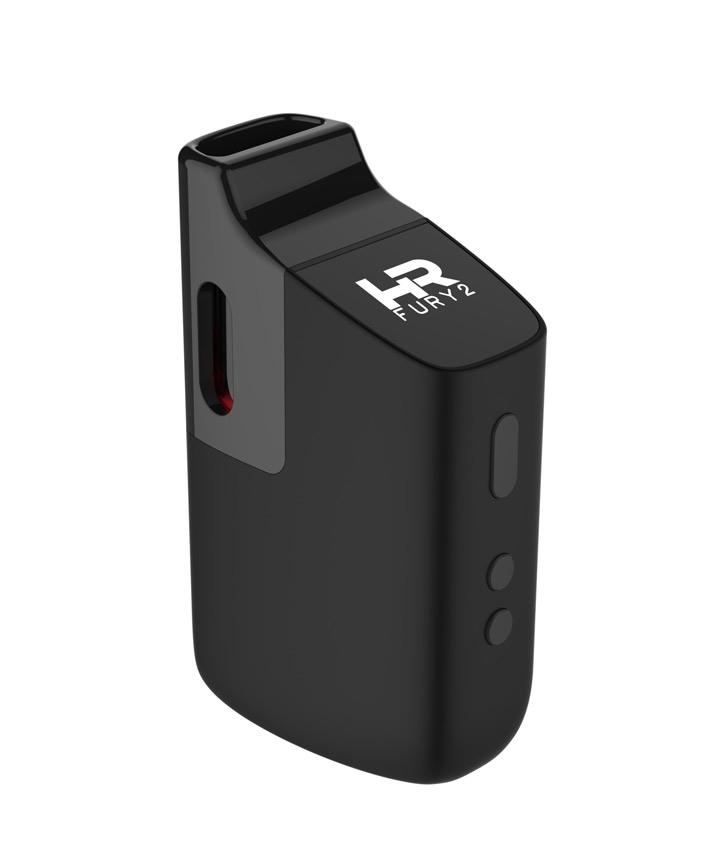 The Fury 2's friendly price and discreet design make it a favorite in the portable vape category.
Fury 2 Features
Compact design (palm-sized)
Convection/conduction hybrid heating
Lightweight metal body (4.8 ounces)
Stainless steel heating chamber
1600 mAh LiPo battery
Temperature range of 320°-430°F
OLED display
40-minute run time
90-minute recharge time
The Fury 2's compact design is its most defining feature. It's pocket-sized, and it weighs just five ounces.
How did Healthy Rips manage to make this vape so compact and lightweight? Its body is made of Kirksite alloy, which is virtually indestructible and extremely light.
Convection and Conduction Heating
The Fury 2 offers a combination of convection and conduction heating. The heating element sits below the stainless-steel loading chamber, allowing for both types of heating to create a clean, rich flavor.
Wide Temperature Range & Long Run Time
The Fury 2 has a wide temperature range of 320°-430°F, and it heats up to 350° in just 20 seconds flat.
The temperature is controlled using a simple, 3-button interface. The OLED display lets you know how much battery you have left and gives you sleep timer info.
Just click the top button three times to turn the device on and off. After four minutes of use, the Fury 2 will automatically go to sleep, but you can reactivate your session by pressing the power button three times.
A quick heat-up time isn't the only thing this vape has going for it – it also has a long run-time.
In fact, one charge will give you about 40 minutes of use. It takes just 90 minutes to recharge.
The Fury 2 runs on a 1600mAh 18500 LiPo battery. Recharging is easy and can be done from virtually anywhere using the included Micro-USB.
Variety of Accessories
What makes the Fury 2 so great? Accessories. Sure, the device is great on its own, but Healthy Rips offers a lot of great extras that enhance the experience.
Mini Bubbler
The mini bubbler, a.k.a. the H20 mouthpiece, produces cooler, smoother vapor without taking up too much space.
This ultra-compact, sidecar-style filter offers a:
1 load capacity
Borosilicate glass construction
Diffused water chamber
The H20 mouthpiece allows you to take longer, faster draws without the heat.
Water Pipe Adapter
The Fury 2's water pipe adapter accessory pairs with 10mm, 14mm and 18mm female connections.
The glass loading chamber increases convection, producing massive, flavorful clouds without irritating your throat.
Glass Mouthpieces
Healthy Rips has three glass mouthpiece accessories.
The 3D Flow mouthpiece has 3D divots that increase the surface area to cool the vapor. Like other glass accessories, this piece is made of borosilicate glass. It also works to increase convection.
Along with the 3D Flow piece, there are also two types of curved glass mouthpieces: grey and clear. These curved pieces are shorter than the 3D Flow, so the vapor isn't quite as cool – but it's still cool enough.
Both curved mouthpieces are made with borosilicate glass and work to increase convection.
Ryot Carbon Series HeadCase
Want to protect your vape? The Ryot HeadCase locks in odors and locks out moisture for extra protection. It features a weatherproof canvas exterior and an activated carbon lining to lock in odors.
You can get a few other accessories for the Fury 2, like a dosing capsule set, chamber screens, concentrate pads, replacement screen gaskets and other replacement parts.
What's in the Box?
Fury 2 vaporizer
Micro-USB charger
Oil pad
Silicone screen assembly
Tweezers
Brush
Protective top cover
Loading tool
User manual
The Fury 2 is also backed by a one-year warranty.
Fury 2 Reviews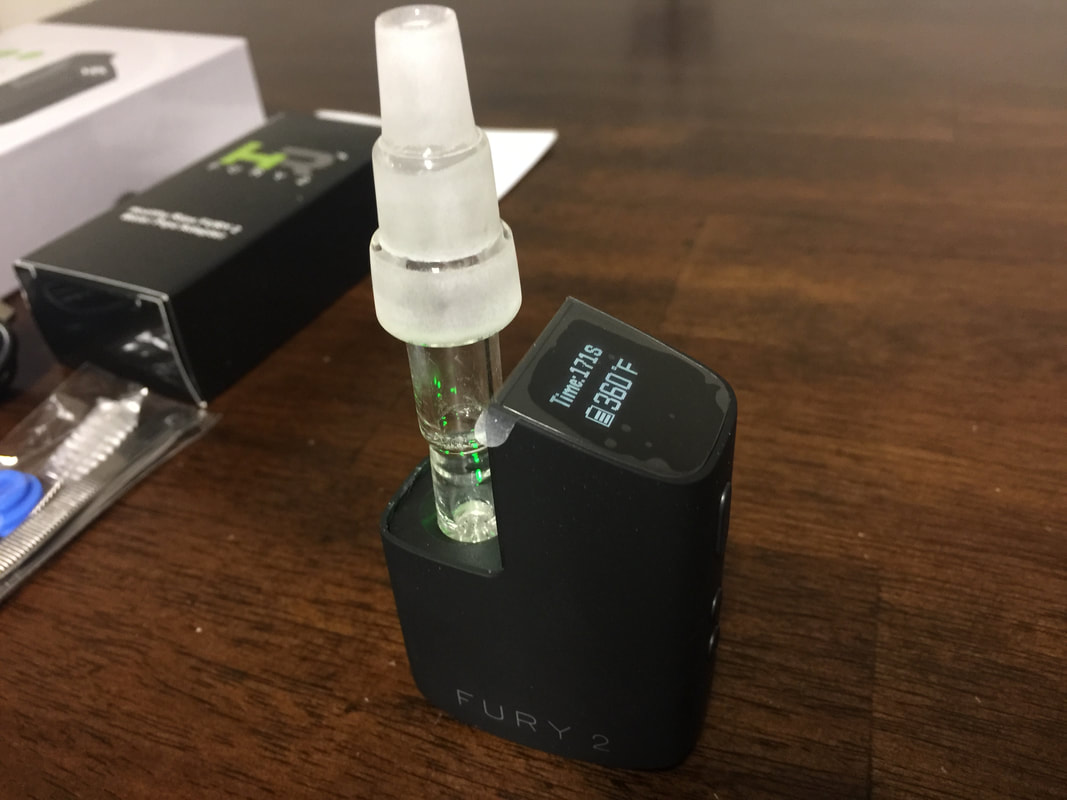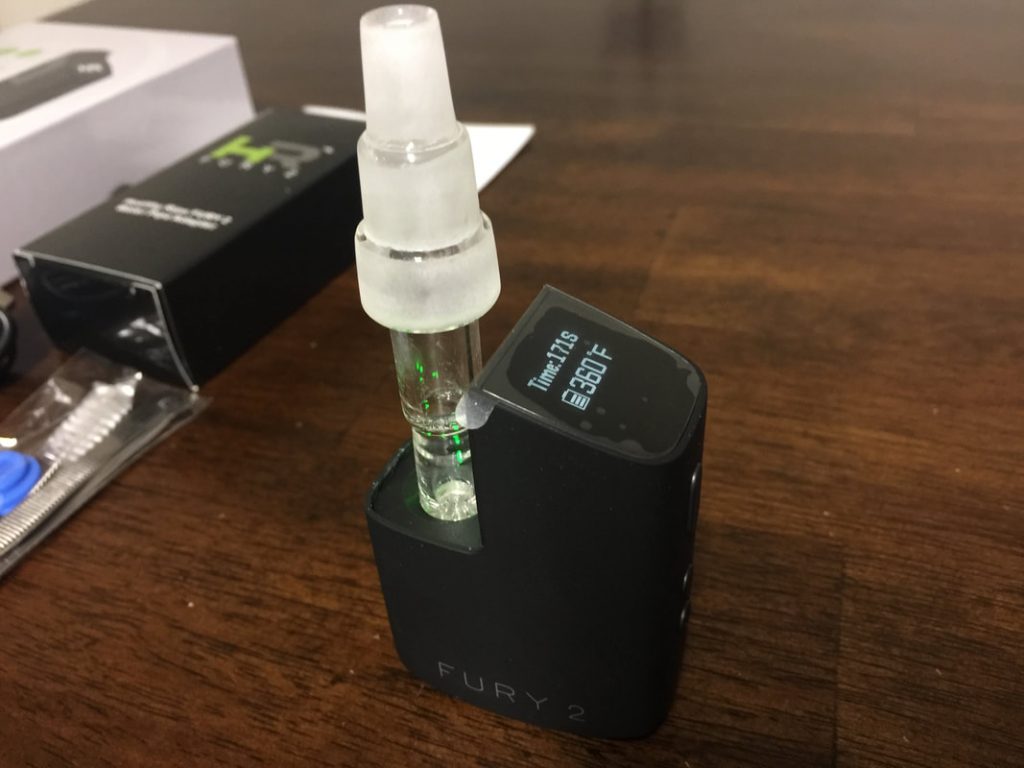 What are actual users saying about the Fury 2?
They love this portable vaporizer.
Here's what actual users love about this device:
Discreet shipping
Portable and discreet design
Clean and virtually odor-free
Hard hits for such a small device
Easy to use
Quick delivery
The only real complaint is that people wish the battery would last longer. But 40 minutes is still a pretty generous amount of time for such a small vaporizer.
Where to Buy the Fury 2 Vaporizer?
So, where can you get your hands on the Fury 2 and all of its accessories? Puffitup.com has it on sale for $109 now.
When you buy from PuffItUp, you can be sure that you're getting a genuine Fury 2. They are one of the only authorized retailers and you can also be sure that you're getting official accessories.