Storz and Bickel are the makers of some of the most widely-acclaimed vaporizers, including the Mighty, which is another portable vaporizer, and the Volcano, one of the best desktop vaporizers on the market. The Crafty is the smallest vaporizer that Storz and Bickel makes and for those who want an incredible amount of control over their portable vaping experience, the Crafty may be the perfect choice.
Crafty Vaporizer Review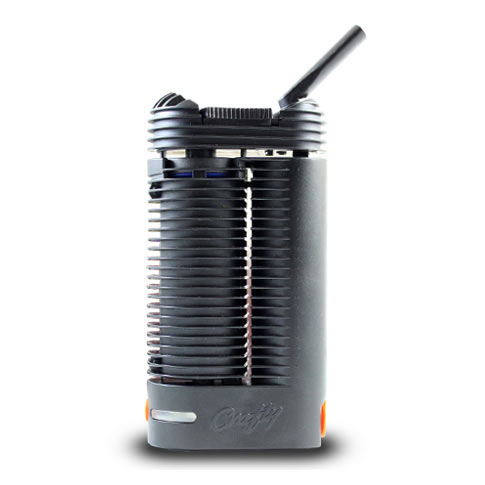 Basic Information
Measuring 4.3" x 2.2" x 1.3 (HLW) and weighing only 135g, the Crafty is truly a portable vaporizer, fitting into one hand with ease. The outer case is made of rigid plastic and the majority of the surface is vented, which not only helps to dissipate the vapor's heat, but makes the vaporizer easier to grip as well.
The Crafty uses a hybrid heating method, combining full convection with conduction, which takes advantage of convection heating's efficiency and conduction heating's speed. The unit is powered by a single lithium-ion battery and takes advantage of Bluetooth technology, allowing users to control its settings via a smartphone app.
Crafty Pros
Temperature control
Unlike its big brother, the Mighty vaporizer, the Crafty does not have temperature controls on the actual unit itself. Rather, temperature and other settings are controlled via a specialized smartphone app that allows you to choose from a range of temperatures, rather than having to select from preset options.
Pass-through charging
One of the negatives with the Crafty is its short battery life (see below), but this somewhat mitigated by its pass-through charging capability, which allows you to recharge and vape at the same time.
Vape quality
Right out of the box, the Crafty was creating vapor that was smooth and clean-tasting. Not once did we experience any scorching, either of our lungs or of our herb. One of our reviewers, who owns a Volcano, said that the Crafty's vape quality was on par with that of the aforementioned desktop unit, which is high praise indeed.
Packing tool
There are few things more frustrating than carefully grinding up your herb only to have half of it miss your vaporizer's chamber and end up on the floor or stuck in the vaporizer's crevices. This does not happen with the Crafty, as it comes with an awesome packing tool that eliminates herb waste. We love that kind of efficiency.

Possible Cons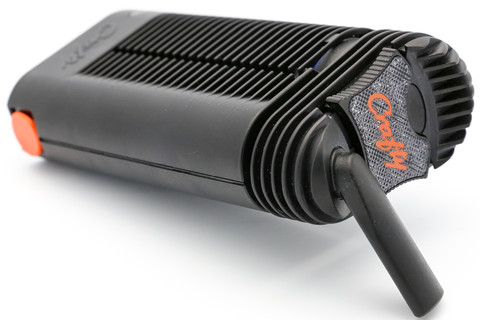 Internal battery
A problem with the battery likely means a trip back to the manufacturer because the Crafty's battery is internal, meaning that it is built into the unit and cannot be removed. That said, problems with Storz and Bickel vaporizers do not often occur. There's many reasons why they are the makers of some of the most popular vaporizers, and quality of build is one of them.  If this is a concern, there strong warranty should ease that for you.
Battery life
The Crafty takes about two hours to fully charge. On a full charge, we were able to get in about 50 minutes of vaping. This is somewhat disappointing, as most vaporizers give at least one hour's worth of vaping and at this price, we honestly expected more. However, the pass-through charging ability helps make up for some of this.
Automatic shut-off
This is by no means a rare feature, and it is one that we genuinely appreciate, but the Crafty's automatic shut-off kicks in after one minute of being idle. One. Minute. Obviously, this can be irritating, especially for those who like to vape leisurely, enjoying each draw before taking another.
Price
At around $340, the Crafty is one of the pricier vaporizers, especially when you consider that the Mighty only costs about $60 more. However, those familiar with Storz and Bickel products know that their quality is second to none. You may have to replace other vaporizers, but a Storz and Bickel vaporizer, like the Crafty, will last you a long time.
Our Crafty Verdict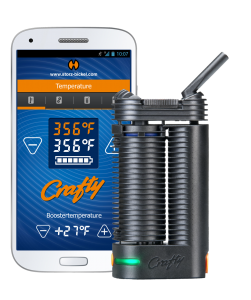 The Crafty is our pick for the best overall portable vaporizer under $400, despite its less-than-impressive battery life.  If you are paying more than this for a portable unit, you should upgrade to The Mighty model, but for around $300, The Crafty is a great choice.
It creates vapor that is comparable to that of larger, more powerful units, but is small enough to fit inside one hand comfortably. It allows for precise temperature control and the adjustment of other settings, but remains very user-friendly. Loading is a breeze and the flip out mouthpiece means you do not have to put your vaporizer together before you can vape, which is a great feature when you're out and about.