DipStick Vape Rating
Vapor Quality -

7.5/10

Portability -

9/10

Value -

8/10
If you're into concentrates, you probably own – or at least have tried – a few vape pens. They're portable, easy to load and pretty stealthy. But after a while, you start to get that unpleasant burnt taste. And if you don't have enough concentrate loaded, you get that dry wick taste, too – a double whammy.
The DipStick Vape is different. It looks like a vape pen, but there's no wick and you never actually load it up.
I know what you're thinking: What? No loading and no wick? How can you vape without them?
Easy. We'll show you how the DipStick works and weigh the pros and cons to see if this is the best dab vaporizer on the market.
How Does the DipStick Work?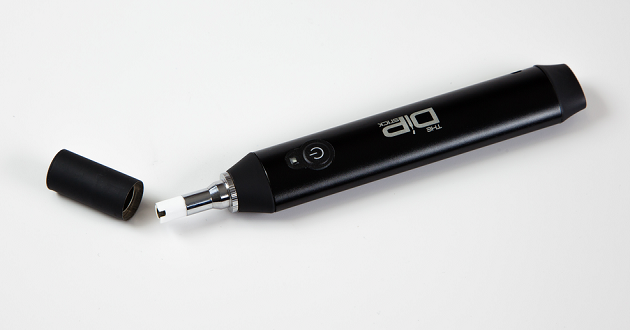 With most portable vapes, there's a lot to talk about when it comes to how the device works. But DipStick is so simple, there isn't much to say.
Here's the gist of it:
Power up the device.
Wait until the temp turns red. The heat-up time is almost instant.
That's it!
Because you're just touching the vapor tip to the concentrate (you're not actually loading up an oven), there's no need for a wick – or a loading chamber for that matter.
When you're done, there's no product left behind, so you never get that burnt taste. All you get are clean hits every time. That's something I've yet to find with other pens and vapes on the market.
Features and Specs – What Makes the DipStick Tick?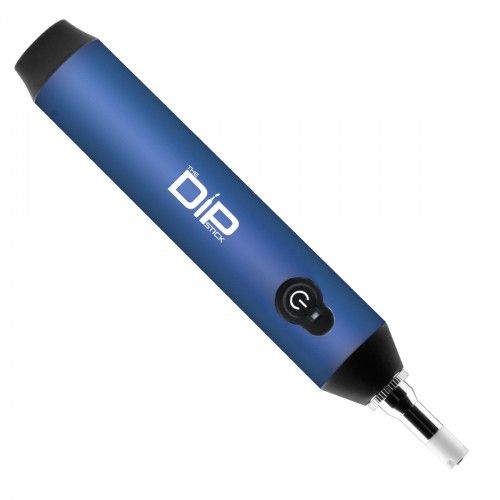 You know how this dab vaporizer works, but what other features does it offer? What makes it different from the competition?
Compact Design & Colorful
I'll be the first to admit that the DipStick isn't the most compact vaporizer out there. Still, it's compact enough for easy portability. It can easily fit in your pocket, purse or glove box.
The DipStick also comes in four colors, so you can personalize your vape: black, pink, silver and blue.
Magnetic Parts & Interchangeable Batteries
One of the great things about this vaporizer is that all components are magnetic. Disassembling and reassembling is a snap because of this.
The batteries are also interchangeable, so you can swap out a drained set for a fresh set on the go. And because everything is magnetic (including the mouthpiece), you won't have to worry about dropping or losing pieces while you're swapping batteries.
An interchangeable battery also means that you won't be running around looking for an outlet to recharge your device when it dies. Just swap in a new set, and you can extend your session.
Clean Hits Every Time
A reclaim chamber is built into the pen, so you always enjoy clean hits. The chamber collects unused concentrate, which completely eliminates waste.
The pen completely disassembles, so you can throw all of the components in alcohol or hot water to clean it in between uses. A clean pen equals a clean hit.
You Control the Hits
DipStick gives you complete control over how big or small your hits are. Just tap the concentrate quickly for a little hit, or tap for a longer period of time for a big hit – and big clouds.
Quick and Easy Use
Because the DipStick is a touch-and-go device, you never have to deal with messy loading or fuss with extra tools just to get the pen ready for use. Just turn on the device, wait for it to heat up, touch the concentrate and inhale.
Of all the portable vapes out there, this is one of the easiest to use – hands down.
Lots of Accessories to Choose From
If you want to enhance your experience or just buy replacement parts for your unit, there are plenty of accessories to choose from, including:
Replacement batteries
Vapor tip
DipWhip
Airflow tube
Lanyard
Cleaning swabs
Concentrate jar
You can also buy replacement parts, including: reclaim chamber, tip cover, mouthpiece, battery cover and battery charger.
3-Year Warranty
The DipStick is backed by one of the best warranties in the industry. The three-year warranty protects your purchase, so if your pen stops working, you can have it repaired or replaced at no additional cost.
What's in the Box?
The DipStick unit
Two vapor tips
Two batteries
Battery charger
Screwdriver
Lanyard
Cleaning swabs
Magnetic cap
Two glass storage jars
Is DipStick the Best Dab Vaporizer?
The main selling point with the DipStick is the flavor. There's no waste or leftover product, so you never get that burnt taste. And because there's no wick, there's no need to worry about that awful dry wick taste either.
Aside from the clean taste, you also never have to deal with loading up the pen. You just touch it to the concentrate and inhale. It's really easy to use, and equally easy to clean because of this.
The swappable batteries mean that you can continue your vaping sessions without having to find an outlet to recharge. Just change out the batteries and keep going.
[alert-warning]There's a lot to love about this vaporizer, and if you prefer concentrates, the DipStick is really the way to go if you want portability. [/alert-warning]
It heats up quickly, and you can control the size of the hits with the length of your inhale.
Would I personally say it's the absolute best dab vaporizer out there?  First, let me say I am more of a traditional vape guy (FireFly 2 please) but if dabbing is your preference, it is the best we have tried.