Vapir Prima Rating
Vapor Quality -

8.9/10

Portability -

8.9/10

Value -

8.5/10
Looking like something out of a sci-fi movie, the Vapir Prima is a portable wax and herb vaporizer that delivers a clean, rich and flavorful vapor every time. We've seen this type of versatility with a lot of new models – compatibility with herbs, waxes and/or liquids – but they typically fail to deliver the kind of quality vapor you've come to expect from a single-material vaporizer.
But the Prima is different. Whether you're using extracts or herbs, you'll enjoy the same quality, rich vapor you crave.
The Vapir Prima has a lot to offer, but is it the best wax vaporizer out there? Let's find out. If the Vapir Prima vaporizer reviews are right, it may just be the best model out there.
What Makes the Prima Unique?

One thing that the Prima offers that many other portable vaporizers don't is temperature control. While you won't be able to set an exact temperature, you will be able to choose between four optimized temperature settings that are ideal for herbs and extracts.
Level 1: 350-360F
Level 2: 365-375F
Level 3: 380-390F
Level 4: 390-400F
With a wide variety of temperature ranges to choose from, this vaporizer is ideal for virtually all dry herbs and extracts.
Aside from temperature settings, the Prima also boasts a number of other standout features:
Compact Yet Efficient
[alert-warning]This Vapir portable vaporizer is compact in size, yet incredibly efficient.[/alert-warning]
Small enough to fit in your pocket, the Prima is just 4" x 1" in size, so it's ideal for on-the-go use. And the advanced heating technology means that this vaporizer is more efficient than ever and delivers a clean, crisp and flavorful vapor with each draw.
Easy to Use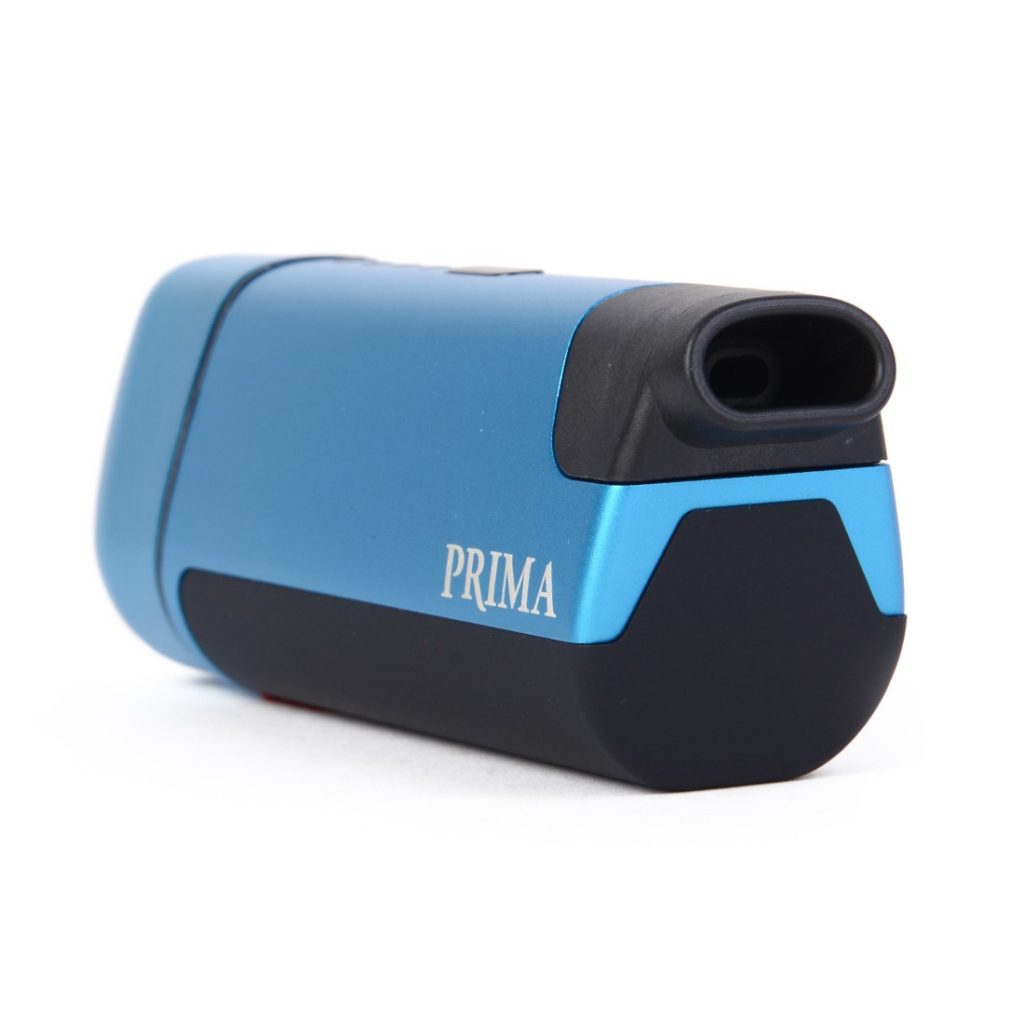 One of the biggest advantages of the Prima is that it's so easy to use.
The heating chamber is on the opposite end of the mouthpiece.
To load up, just remove the cap and fill the chamber with your desired material.
Replace the cap.
Hold down the power button for three seconds to power up the unit.
Choose your desired temperature by toggling the power button. You have four levels to choose from.
Once you've selected a temperature, wait until all of the LEDs turn a solid green color.
Take your first draw.
In just a few minutes, the Prima is loaded and ready for use.
Extended Sessions
Vapir allows you to extend your session by two minutes. All you have to do to activate this setting is press the power button twice at any time.
If you don't extend your session, the unit will automatically power down after five minutes. Before it shuts down, the LED lights will start blinking green to let you know what's going on.
Quality Construction
The Vapir features a stainless steel vapor path and medical-grade components that have been tested for maximum durability.
The brushed aluminum body adds to the sleek look of this vaporizer but also protects it from damage.
Easy to Maintain
Easy maintenance is something all users can appreciate, and the Prima does a great job of making cleaning as simple as possible.
The stainless steel vapor path can be removed for easy cleaning in between sessions. Vapir includes a cleaning tool as well as a plug brush for stress-free maintenance.
The lithium battery is also removable, so you can replace the battery once its life has been depleted.
Multiple Accessories
In addition to a cleaning tool and plug brush, you also receive several other accessories, including:
Cap sleeve
Extra mesh screens
Extra cap screens
A scoop
Naturally, a battery charger is included as well as the battery itself.
Sleek Design
The sleek look of the Prima is an attractive selling point, and its modern design still allows the vaporizer to be small enough for easy transportability.
The Prima comes in four vibrant colors – silver, black, blue and orange – so you can choose a color that suits your personality.
Pros
Easy to use
Delivers clean, crisp and rich vapor
Can be used with herbs or extracts
Maintenance is a breeze
Compact design allows for easy transportability
Sleek design
Excellent battery life
Battery is removable and can be replaced
Cons
No precise temperature controls
The only gripe we had with this vaporizer was that it doesn't offer precise temperature controls. While not the norm with portable models, we are starting to see some new models offering this feature. Considering its higher price tag (around $260), we were disappointed to find that it only offered temperature ranges.
With that said, the temperature settings are ideal for most extracts and herbs, so it shouldn't be an issue. But if you're going for precision temperature control, this may not be the right model for you.
The Bottom Line
Overall, the Prima exceeded our expectations at this pricepoint. The vapor quality is great, and the unit is exceptionally easy to use. We would have liked to see better temperature control, but we had no issues with combustion or weak clouds when using this model. Clean-up was a breeze, and we liked the automatic power-down feature.
The Prima's compact size makes it great for use on the go, and the ability to choose between four colors lets you personalize your unit. For the price, the Prima delivers a great vaping experience and portability. We highly recommend this vaporizer to users of all experience levels, although vaping veterans may be more appreciative of this unit and all of its robust features.