The Updated Pax 3 Vaporizer Combines Loose Leaf & Concentrates Into One Ultra Portable Vape


Whether you're a new or seasoned vaper, you know that there is one vaporizer that seems to almost be shoved down your throat: Pax. No matter where you look, this vaporizer model will be listed on the top lists, and people will rave about it night and day.
And there is a reason for all of this hype…
Pax simply surpassed the competition in terms of function and quality. Now, the company has taken it to a whole new level and released the Pax 3. This is one of the biggest advancements the company has made to date – and it makes a huge difference.
What's the New Pax 3 Features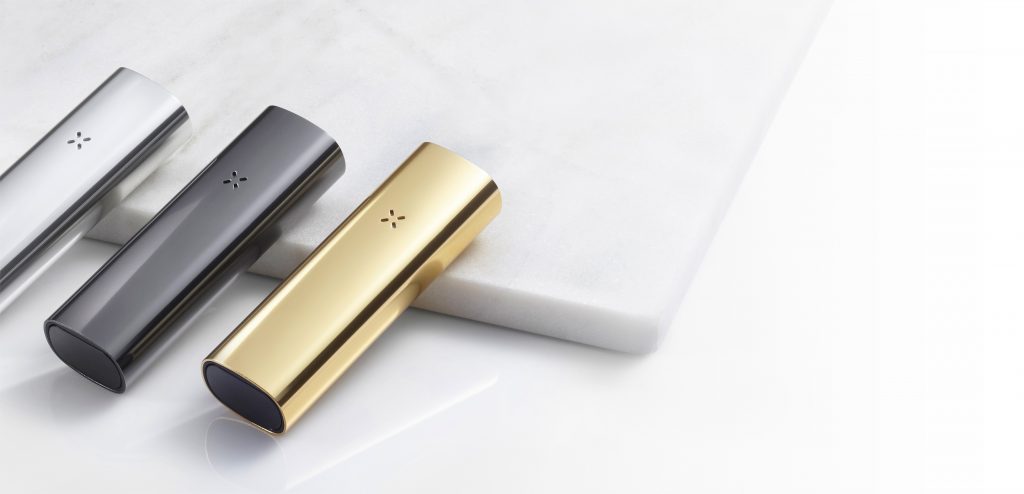 You're excited by the latest Pax release- I get it. This is big news in the industry, and we're going to discuss what's new with this model before going through a complete rundown of all the features that this portable vape offers to users.
Loose Leaf and Concentrate Vaping Combined In 2-in-1 Vaporizer
The biggest and most exciting feature that has been added is the ability to use loose leaf and concentrates all in the same vaporizer. It's option overload, and it allows the Pax 3 to be the most versatile vaporizer on the market today.  Well, it is not on par with our favorite desktop model – The Volcano, but for a mobile device it has a lot of tech packed in.
This new flagship product will allow for dual usage, so you can use your oils or flowers without worry.
Why were concentrates ignored for so long?
This is a question a lot of people ask. The answer is simple: there wasn't much of a demand for concentrates when the Pax 2 was released. But Pax Labs realized that the industry is moving toward concentrates and other materials, so the company made it happen with a device that still looks and feels the same – yet it's more powerful.
I mean, this vaporizer has three ovens – that's just insane.
Full-Size: The full-size oven is what you'll use for your loose leaf herb.
Second Oven: Loose leaf herb can be placed in the second oven, too, and this is done to allow for solo use. When you don't have much herb to spare, place it in the second oven for solo use.
Concentrate Oven: As you might have guessed, this is the oven that is dedicated to concentrates. You'll place all of your liquids in this oven for heating.
Keep in mind that the second oven is smaller than the full-size model.
It's a revolutionary step for the Pax 3 because the way concentrates need to be heated is much different than loose leaf herb. You don't need to buy any sub par add-on to be able to enjoy the utmost out of your vaporizer anymore.
Add in the Pax Vapor App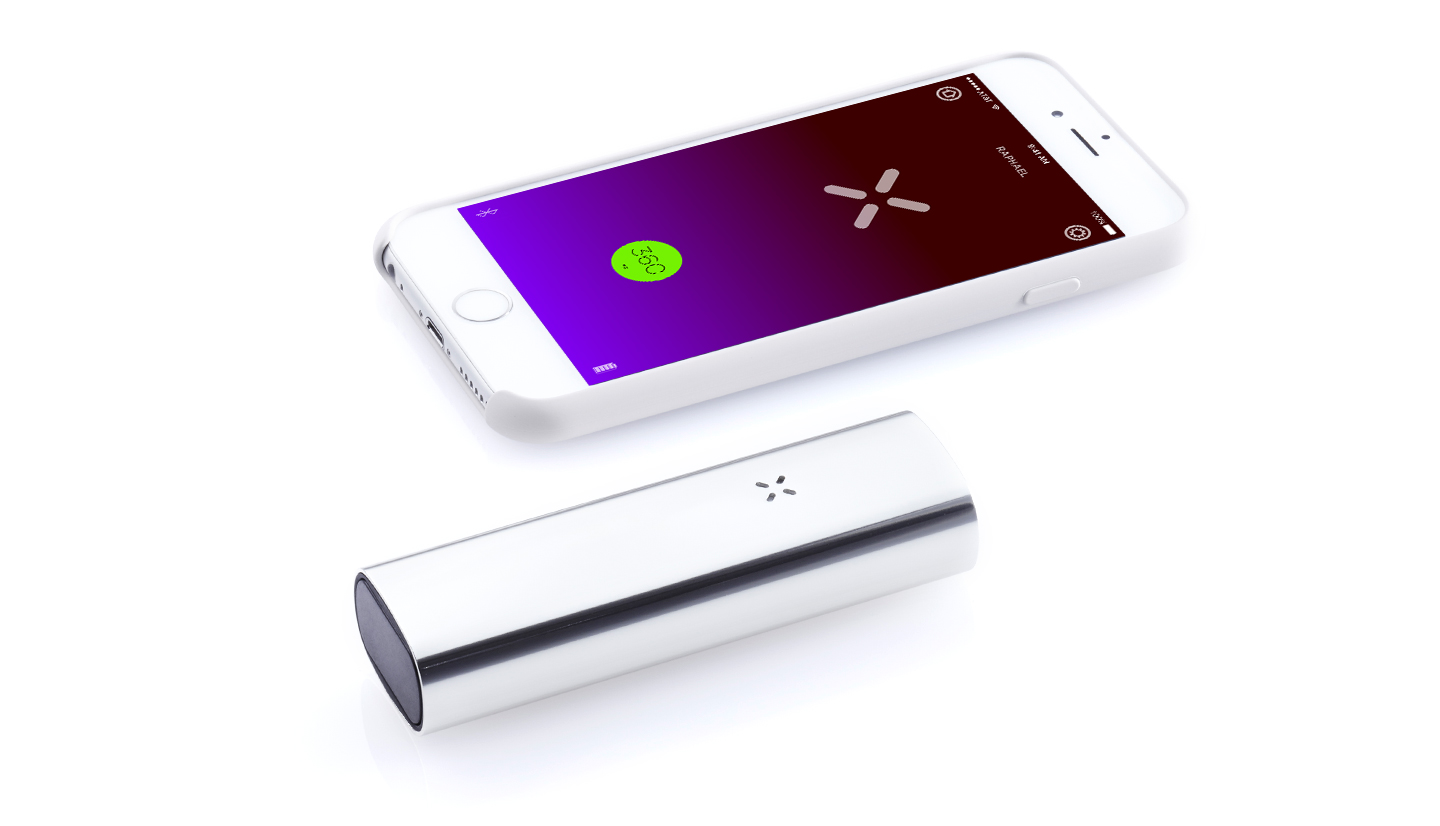 I would have been content with just the ability to combine loose leaf and concentrates into one vaporizer. But the company has gone a step further to make this a futuristic vaporizer that will be the envy of everyone who uses vaporizers.
The initial beta version of the app isn't all that impressive just yet so maybe it's not supposed to turn this vaporizer into a transformer…
But what the app does do is give you even more control over your vaping experience.
The Pax 3 is able to be fine-tuned using the accompanying app, so you'll be able to set precise temperatures for your herb or concentrate via the app. There are also options to adjust the color of the LED lights for some added fun.
The app is coming soon, and it will be available for the Pax 3 and Pax Era too.
Mellow flavor can be achieved on the lower setting, and a higher temperature will produce a strong, more intense flavor for those days when mellow simply won't do the trick.
The app is still in the works, and it will be updated often, so we expect more on this front.
Back to the Basics
We discussed all of the new features, but there have been many features that have been updated and enhanced, too.
The weight of this model isn't listed, but it's on par with the Pax 2. In terms of size, it's the same size as the Pax 2 as well and fits perfectly in the palm of your hand.
Let's talk about the Pax 3 colors for a minute…
Pax 3 Colors
People don't seem to appreciate colors as much as they should, but this model offers some very nice color options that will allow you to be stylish while also carrying your vaporizer. This model comes in four color options:
Black
Rose Gold
Gold
Silver[/two_third_last]
And these colors are all vibrant and beautiful. It's a great option for a vaporizer to have so many great colors since it also allows you to own more than one model and not get confused. If you have someone else using the same color Pax in the house, it's easy to get mixed up and pick up the wrong one.
So, what else does this vaporizer have to offer?
Design Tweaks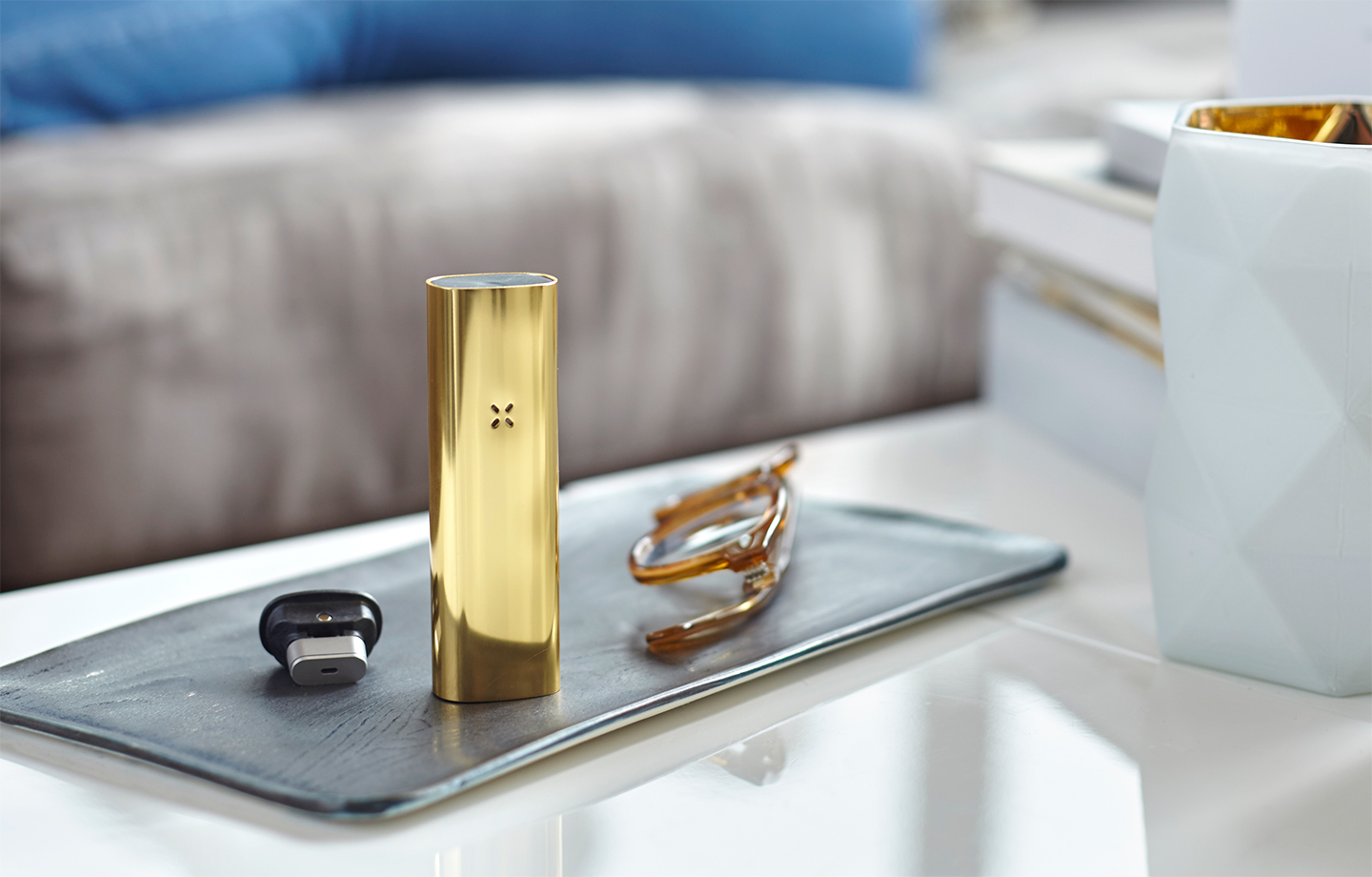 The design of this model is relatively the same as the last. The size stays the same, and the one main difference, aesthetically, is that this vaporizer has a polished finish vs a matte finish, which makes it much nicer in my opinion.
There is a space for raised or flat mouthpieces.
A magnetic lid keeps the oven closed as normal, and the lid protrudes a little further than before.
In terms of design, most elements are all the same but the overall increase in finish quality make this truly deserving of the 'iphone of vaporizers' label.
Unique Controls
Controls, such as the accelerometer and single button controls are still in place and make this one of the best vaporizers for portability.
In front of the unit, you'll find that the four LED readout is still the same.
A click of the button will allow you to turn the unit on and off, and you also have the option of holding the button in to be able to change the temperature of the unit. But you also want to keep in mind that all of this functionality is offered in the app, too, which makes it much easier to control temperature with precision.
All of this allows for a better flavor when vaping.
And the front LEDs allow you to play fun games, too – many of which are hidden. This means you can initiate Simon Says (or a similar game) as well as light modes and a colorful baton option.
Keep in mind that the app is still in the development stages, so there isn't all that much information as to what else the app will offer in terms of function. It's sure to enhance the fun and quality of the Pax 3, but to what extent no one knows for sure just yet.
Heating Has Been Updated
Tapping your feet and waiting for the Pax – or any other vaporizer – to heat up is boring. But the good news is that this model has a heating element that uses conductive heating. Vapor is pulled out of the chamber.
This model heats up in 10 – 20 seconds – wow!
A lip sensor does turn down the temperature on the unit when you're not vaping, but the unit as a whole stays on all the time, so herb will burn faster as a result. This isn't anything new with the Pax, but it's worth a mention nonetheless.
After some time using this vaporizer, you'll see that the vapor production makes it stand out from the competition.
Users only need to spend a few days using the Pax 3 to learn how to pace the vapor and really get a good taste out of it. You'll find that the refined puffs are an amazing part of this vaporizer, and it will be something you truly appreciate.
A Word About the Pax 3 Warranty
What's truly unique about Pax Labs is that they really back their products. The company doesn't make empty promises, and they don't just sit back and let consumers buy their products without a high-end warranty.
The company offers a 10-year warranty – an entire decade.
And the Magic Flight is the only warranty in the industry that can compete with this level of warranty. It's a safeguard on your investment, and it just shows you how much the company cares for their consumers.