Linx Hypnos Zero Rating
Vapor Quality -

8.2/10

Portability -

9.5/10

Value -

8.5/10
Ranked as one of the top pen-style vaporizers of the year, the Linx Hypnos Zero takes vaping to the next level. Offering pure flavor, a sleek design and a healthier way to vape, it's hard not to fall in love with the Hypnos Zero.
What Makes Hypnos Zero Unique?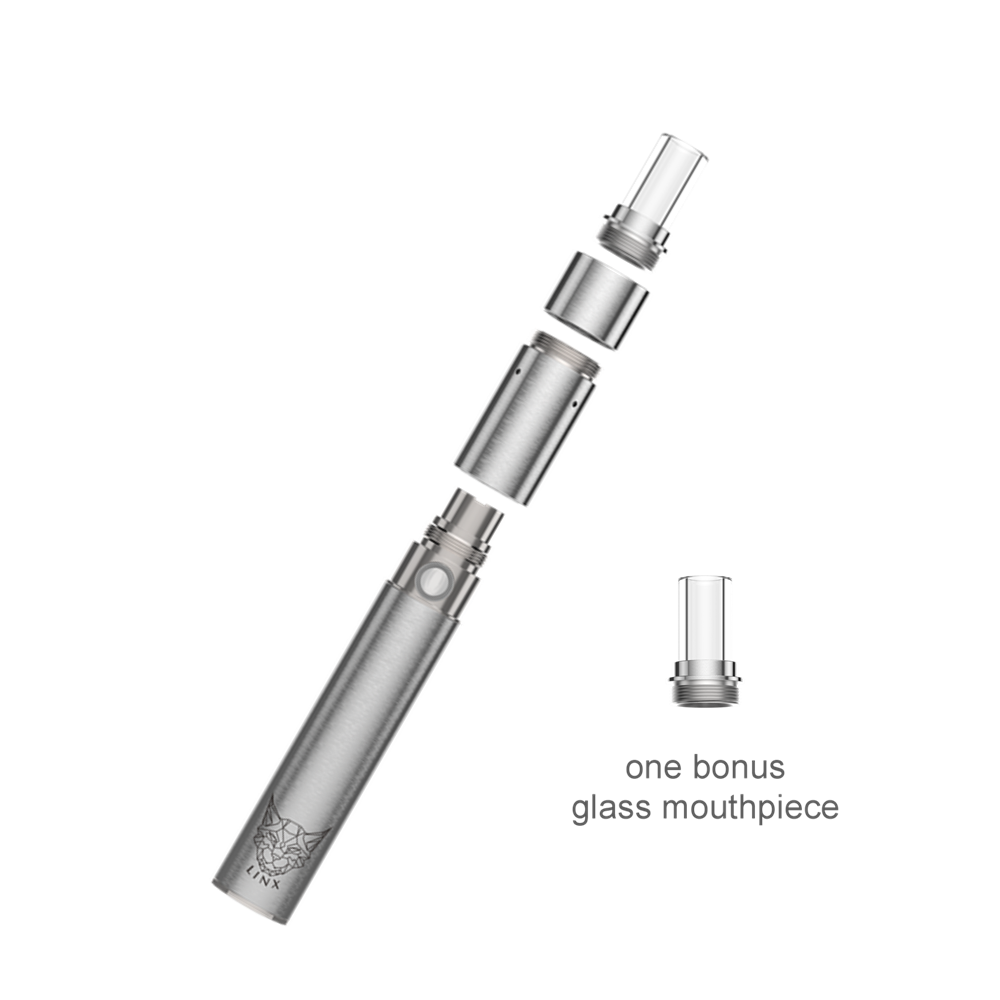 There are dozens of portable extract vaporizers on the market today. Why choose Hypnos Zero?
[alert-announce]Nothing But Pure, Sweet Flavor[/alert-announce]
Featuring a ceramic heat plate, this wickless vaporizer heats up quickly and evenly. Even heating means you get more flavor from your herb.
The heat plate is also designed to produce minimal waste, so you enjoy nothing but sweet, pure flavor.
A Healthier Way to Vape
The Hypnos Zero features a ceramic plate, ceramic chamber and a glass mouthpiece for a healthier way to vape.
Zero toxins. Zero plastics, fibers and paints.
With Hypnos Zero, you enjoy nothing but pure flavor.
Your Temp, Your Way
The Hypnos Zero is one of only two extract vaporizers on the market that has four temperature settings.
That's right – you're in control of how hot this little pen gets.
Linx puts you in the driver's seat, so you control the heating rate of your material. Go cooler for a strong hit, or hotter for more flavor.
Changing the temperature is easy. Three clicks toggles the temp settings:
Low: Blue
Medium: Green
Medium High: Yellow
High: Red
The temperature settings have been recalibrated to perform differently from the previous Hypnos vaporizer. The lowest temperature is cooler and the highest temperature is hotter.
Big Flavor, Compact Body
At just 10.7 cm (mouthpiece included), the Hypnos Zero is ultra-compact and packs a lot of power into a small body.
And with a light weight of just 46 grams, this vaporizer is extremely portable.
The Hypnos Zero can fit just about anywhere, so you can easily take it wherever you go. The sleek steel design also gives this vaporizer serious points in the stealth department.
510 Threaded Battery
The 510 threaded battery makes this pen compatible with all of your favorite accessories. And when you're out of juice, it takes just 1-2 hours to recharge via USB.
When fully charged, this vaporizer's battery delivers about 16 minutes of use.
Highly Durable
The Hypnos Zero is constructed with medical-grade stainless steel, which makes this sleek pen long lasting.
Wickless Design
Because the Hypnos Zero uses a ceramic plate heater, it has no need for coils wicks, discs or rods.
The unique design of its heating system means your extracts never touch metal or plastic – only ceramic. And you never have to worry about burnt or harsh flavors.
While the Hypnos Zero won't produce crazy clouds, like what you'd find with quartz coil vaporizers, it does deliver more flavorful hits than just about any other vape pen out there. The vapor is as smooth as can be, and isn't scratchy on the throat.
Excellent Air Flow
The Hypnos Zero's air flow is excellent. The inner chamber's top edge features four air holes, which never get clogged.
Comes with Everything You Need to Get Started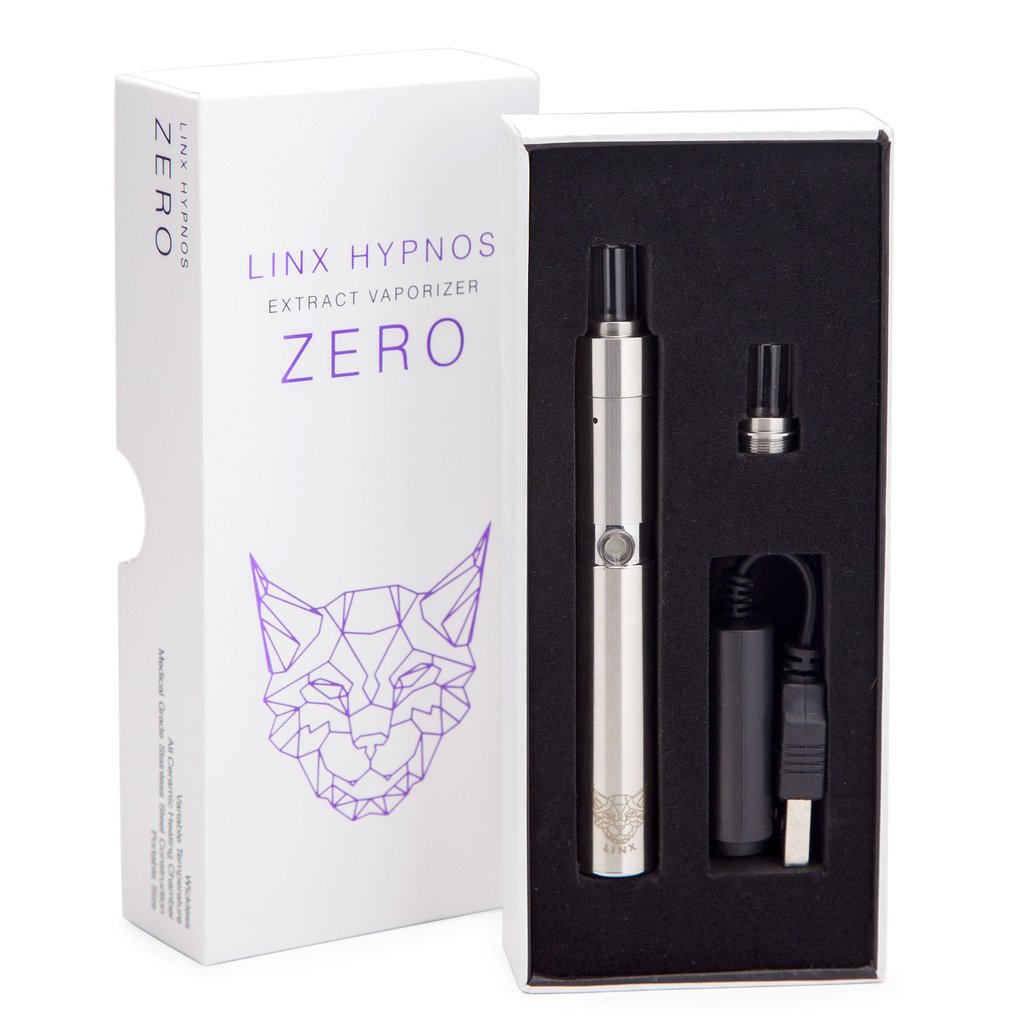 The Hypnos Zero comes with everything you need to get started vaping, including:
Ceramic atomizer
Battery
Charger
Two glass mouthpieces
Extra atomizers and glass mouthpieces are available directly through Linx if you need additional accessories.
How to Use the Hypnos Zero Vaporizer

The Hypnos Zero is not only innovative but also easy to use.
Remove the mouthpiece by unscrewing it from the base.
Add your extract to the heating chamber. Just a few dabs is all you need.
Return the mouthpiece to the base.
Turn on and heat up the pen.
Enjoy!
Three clicks is all you need to adjust the temperature to your liking. The LED light will let you know which temperature you've selected.
One round will give you about 10-20 draws, and the Hypnos Zero will extract every last bit of flavor from it.
What We Liked and Didn't Like
[alert-note]
The Hypnos Zero is – hands down – one of the most compact extract vaporizers on the market today.
[/alert-note]
And we love its sleek, discreet design. No one will know this is a vaporizer, and you can easily slip it into your back pocket. It won't weigh you down, and it isn't awkwardly-sized.
The Hypnos Zero is easily one of the stealthiest and most portable vape pens out there. But it's also great for home-use when you want just a few quick hits here and there. And if you're using it at home, the recharge time is much quicker when you plug the pen into the wall.
The pen is easy to load and heats up almost instantly. The temperature is easy to change, and the hottest setting usually gives the most flavorful hits.
One session will give you about 10-20 draws, which is satsifying. The vapor is smooth and flavorful, and there's virtually no reclaim after each session.
Recharging is relatively quick, and the battery lasts long enough to give you a satisfying session.
The only gripe we had with this vaporizer is that residue can make it up into the mouthpiece. Because the mouthpiece is glass, it's easy to see the residue and makes the mouthpiece look dirty. Some people find that they have to clean the mouthpiece after each use, which may be inconvenient for some people.   However, this is purely just a cosmetic gripe and if you are already familiar with glass mouthpieces this will be nothing new to you.
With that said, the Hypnos Zero is a truly impressive vape pen and ranks among the top ten in our book.
Click here to learn more about the Hypnos Zero vape pen from Linx.