In the world of portable vaporizers, you're pretty limited when it comes to material type. Most vaporizers only do one or the other – dry herbs, liquids or concentrates. And if you can use more than one material type, you usually have to attach an adapter to switch it up.
The Haze Dual v3 is different. This is the first portable vaporizer that lets you use dry herbs, oils or liquids, and concentrates interchangeably and all within the same session. That's pretty revolutionary.
But is it worth the upgrade?
Let's take a closer look at how the Haze Dual v3 works and what makes it different.
How Does the Haze Dual v3 Work?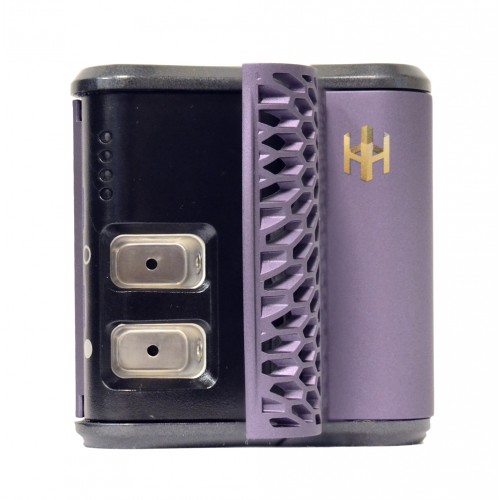 Most of you are probably wondering how the Dual v3 lets you use both dry herbs and concentrates or liquids in the same session.
The answer: a dual bowl.
I know what you're thinking: that's not exactly revolutionary. But it is. Here's why:
Each bowl is separated by stainless steel walls, allowing each bowl to heat up at different temperatures.
Haze didn't just throw two bowls into their design and call it a day. They designed the Dual v3 so that you can heat up each material type to the correct temperature, so combustion is never an issue.
Once your herbs, liquids and/or concentrates reach your desired temperature, the heat exchange mechanism gets to work to allow for a cool vapor output.
The Dual v3 offers 4 different temperature settings, which are each displayed using the LED indicators on the front of the device.
There are four dry herb temperature settings: 365°F, 380°F, 390°F and 415°F.
There are two oil/wax temperature settings: 390°F and 415°F.
Temperatures can be selected by pressing the selector button on the top of the device (right next to the mouthpiece).
Haze's patented heating technology allows for a lightning fast heat up time of 60 to 90 seconds, so you'll be ready to vape in less than 3 minutes.
And when you're ready to vape, all you have to do is adjust the height of the mouthpiece to get started.
As far as battery life goes, this vaporizer features an external lithium-ion battery that is long-lasting and rechargeable.
What Makes the Haze Vaporizer v3 Different?
[alert-note]Aside from the dual bowl future, what makes this vaporizer different from any other ones on the market?[/alert-note]
For one thing, you have options when it comes to heating style. Haze provides both a conduction screen and a convection screen. The convection screen is surrounded by four stainless steel walls, which prevents any direct contact with the heating chamber. The conduction screen leaves two sides open, which provides controlled exposure to the heating chamber.
Another unique feature that this vaporizer offers is pre-pack cans. These cans allow for On-The-Go vapers and the ultimate in portability. All you have to do is pack these cans in advance, and you never have to worry about prepping for cleaning while you're out and about.
       Haze has also taken steps to improve the Dual v3.





A new temperature regulator allows for more precise temperature control, and will no longer be affected by humidity, altitude, air pressure or outside temperature. Both the dry material and concentrate canisters have been redesigned to promote airflow in the dry material canister and trap liquids, and concentrates in the concentrate canister to prevent leaking.
Perhaps the greatest thing about this vaporizer is its durable construction. The inner housing surface is made with high temperature resistant fiberglass. On the door of the device, there's a heavy-duty steel heater seal to maintain the appropriate temperature at all times.
There's a lot to love about this vaporizer, but is it worth shelling out $250 for?  Let's look at the good and bad about the Dual v3.
Is this the Best Handheld Vaporizer Ever Made?
When build quality and American innovation merge, you end up with a quality product with a company that stands behind their product.  That is exactly what Haze Technologies have done with each iteration of the Haze Dual.   The 10 year warranty is almost unheard of in the vape industry.  That alone, should tell you that price tag is well worth your investment.
The Good
Easy to use
Heats up incredibly fast
Allows you to use dry herbs, oils, and concentrates interchangeably
Highly portable
Pre-pack canisters allow you to pack up your bowl before you leave, so you never have to worry about proper cleaning while you're out and about
Dual bowls allow for individual temperature settings
10-year warranty – the best warranty out there
The Not-so-Good
Can't use both chambers at the same time (Yes, we are being picky here)

Many of you may have been hoping that you could use both chambers at the same time. Unfortunately, you can only use one chamber at a time. They are interchangeable, and once you're done vaping with one, you can switch to the other chamber. Both chambers can be vaped using any material type at your desired temperature.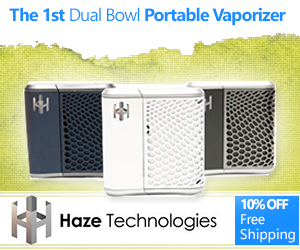 The inability to use both chambers at the same time is a bit of a disappointment, but understandable. And truthfully, I'm not really sure if being able to vape both at the same time would really provide any benefits anyway.
The freedom having both options gives you though cannot be understated.  Not having to carry around and charge different vapes for different materials is a true luxury that you don't realize you like until you have it.
What the Dual v3 ultimately offers is a custom vaporizing experience. Whether you're looking for a medical marijuana vaporizer or a portable model for aromatherapy purposes, the Dual v3 can do it all.
If you only care about vaporizing one material type – dry herbs, oils or concentrates – this vaporizer may not be worth it for you and you might want to consider a dedicated device for your material preference.
But if you're the type who switches between dry herbs, oils and concentrates often, it's definitely worth upgrading to this vaporizer. If you want the ultimate in versatility, get the Dual v3. For most people, it's absolutely worth the upgrade. And with cool vapor and an easy draw, each new vaping session is better than the last.
Click here to get the Haze Dual v3 today.