Dr. Dabber's Boost eRig offers portability without sacrificing functionality or taste. The best enail on the market, the Boost Vaporizer heats up quickly, contains a titanium nail and offers 50 – 60 uses on a single charge of the battery.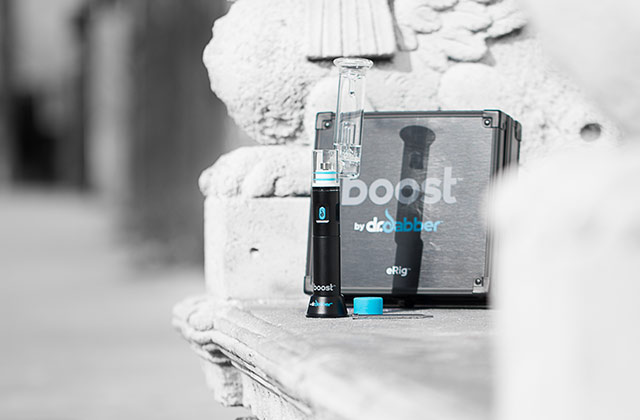 I was lucky enough to take this model for a test drive, and I'll share my experience in my Boost eRig Review.
Let's take a quick look at the features first:
Dr Dabber Boost eRig Features
50 – 60 uses per charge
30 second startup time
Water filtration system
Titanium nail
Oil and wax capability
Magnetic loading tool
If you're a fan of the dabbing experience, this is the right vaporizer for you.
Boost eRig Review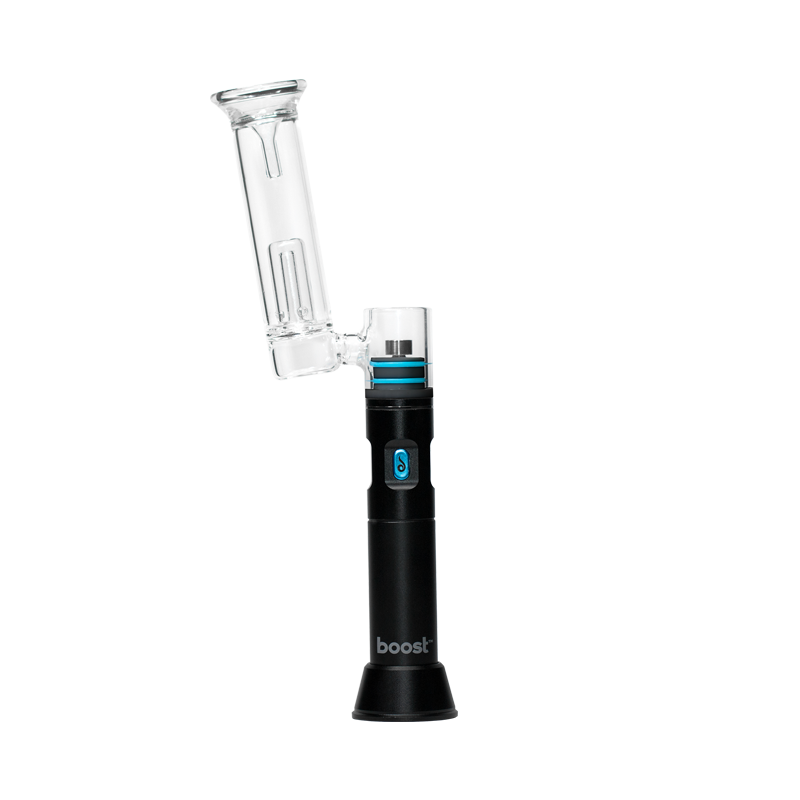 When the Boost was delivered to my house, I found that it included a lot of extras in the box. Dr. Dabber gives you literally everything you need to get started with this unit. You'll find the following items in the box:
2 domeless titanium nails
Carb cap (magnetic)
Loading tool (magnetic)
2 storage containers
Charging unit
Glass water attachment
As you can see, everything you need is included, so you can get started with vaping almost immediately.
I've tried a lot of vaporizers in my time, and this model is simply different.
Dr. Dabber states that this is a completely new model that has never been made before. And they weren't kidding; this is a completely new type of vaporizer.
Let's take a closer look at all the features of this model:
Battery Life and Charging
Small and compact, this unit features a 2500 mAh battery that holds its charge for 50 – 60 uses. This is spectacular considering you'll only take 10 – 20 hits from the unit at one time. Charging the battery is simple, too. A mini USB cord is included and will be your main source of charging.
If you need to vape quickly, simply plug in the unit, and in less than 20 minutes, you'll be able to use it for at least one hit.
Charging takes 2 hours (approximately) when the unit has been fully depleted.
Start Up and Settings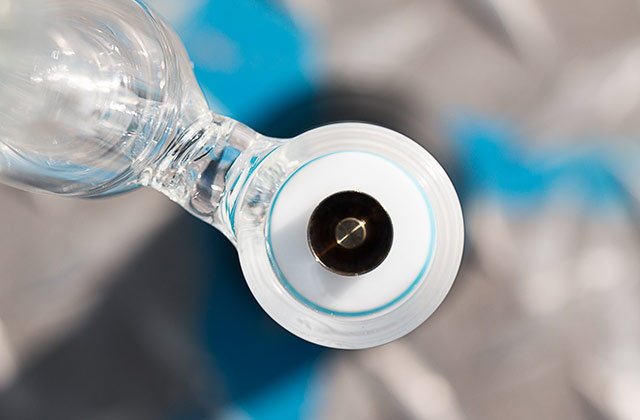 Boost is advanced, but it features a simplistic design. You won't be using herb with this model, so there are no heat settings involved. Wax and oil are used to produce your vapor, and once you press the button to turn the unit on, you'll want to do the following:
Wait for the blue light to illuminate (30 seconds)
Load directly onto the nail
That's it! You'll be vaping in no time. If you used any of the other models from Dr. Dabber, you know that they use a glass water filtration system to enhance the taste of your vapor. After all, this is a true dabbing system.
The glass water attachment allows you to mimic this precisely.
Never before have I used an enail that was able to produce this level of vapor. And I think that the reason this unit works so well is because of the water filtration system. It will taste just as good (or better) than a desktop vaporizer, and you can fit it perfectly in your bag or backpack.

It's small, and very portable.
Like I mentioned earlier, the Boost eRig does not sacrifice quality.
Loading is a Breeze
Oil and wax will be loaded directly onto the titanium nail. The domeless nails are included (2 in total), and there's even a magnetic loading tool available. Simply place your concentrate on the loading tool, and you're good to go.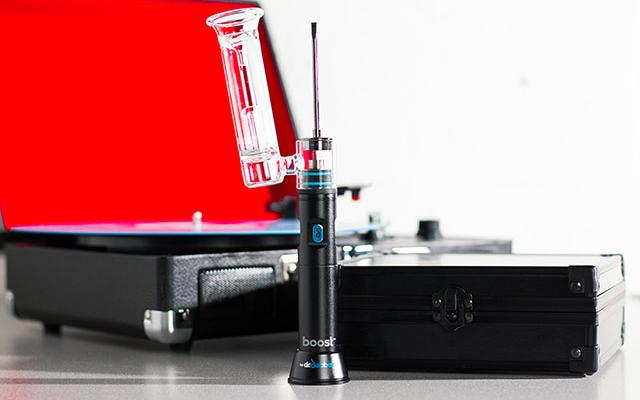 The magnetic carb cap will protect the unit when it's not in use.
I should also mention that there's also a medical grade storage container (two, actually) included with the Boost. This is the perfect place to store your concentrate when it's not in use, and it helps maintain the flavor and potency of your concentrate.
Ceramic is Coming
Many people want a ceramic model, and the manufacturer has stated that they are working on it. While the main website and other sources do not mention some of this information, the manufacturer has been present on many forums and has said the following:
The eRig heats up to 700° with three clicks of a button
The unit holds a 50 – 60 dab charge (30 second dab duration)
You'll also be able to swap out the titanium nail with the ceramic nail, according to the manufacturer. This is still a very new product, and while we have used it already, we weren't sure just how hot it got internally.
Even at 700°, this unit will not burn your concentrate, leaving you with an exceptionally long lifespan for your concentrate.
Pros
Very easy to load
Exceptional flavor
Long battery charge
Cons
The only complaint I have about this unit is that you can't utilize herb; just wax and oils. But the manufacturer is clear about this, and it's not much of an issue. If you're a medical marijuana user, many concentrates now have THC in them so that you can use this for medicinal purposes as well as recreational purposes.
The Boost eRig has revolutionized the way that portable vaporizers work.
It would be an understatement to say that this is the best enail on the market today – it's out of this world.
When you own a Dr. Dabber, you'll also find that the customer support is top notch and that the company is always trying to be innovative. On top of all this, they actually listen to their customers.
If you're on the market for a portable vaporizer, I highly recommend the eRig.
Click here to buy Dr. Dabber's Boost eRig on sale today.