Vapor Quality -

9.9/10

Portability -

8/10

Value -

9.2/10
The Arizer Solo isn't the sleek portable vaporizer that looks like a pen or a cigarette lighter. It doesn't have a cute design or fancy modes (I'm looking at you Pax 2). What it does have is a smart design, and the ability to produce some serious clouds.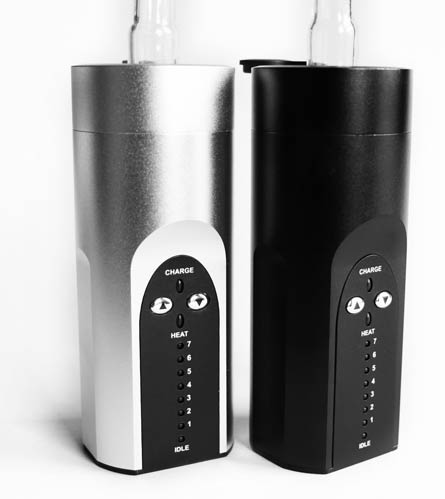 Don't get me wrong, the Arizer Solo does have a modern look, and it's easy to use. But its design is an homage to old school vaporizers – which isn't a bad thing.
At the end of the day, looks don't matter. It's what's inside that counts. In this Arizer Solo review, we'll take a closer look at how this vaporizer works, what accessories are available and how it stacks up to the competition. Is the Solo the best portable vaporizer? Let's find out.
How the Arizer Solo Works
With a ceramic heating element, convection heat and glass stem, the Solo offers a superior vaporizing experience. It runs on a rechargeable Lithium ion battery, and stands just 4.75" tall.
The durable matte black exterior protects the internal components, and is highly resistant to scratches and general wear and tear. There's a solid foundation around the heating element, too, which adds an extra layer of protection.
Temperature Settings
The Arizer Solo temperature control system offers 7 different setting, so you can choose the right one for your material.
Level 1: 122F (50C)
Level 2: 365F (185C)
Level 3: 374F (190C)
Level 4: 383F (195C)
Level 5: 393F (200C)
Level 6: 401F (205C)
Level 7: 410F (210C)
The Solo doesn't offer precise temperature controls, like what you would get with the Volcano, but it does offer a myriad of settings, which will suit any material.
Heat-up time is lightning fast. The lowest temperature setting takes just 15 seconds to heat up, while the highest temperature setting takes just two and half minutes.
It's easy to see the temperature level at a glance. There are 7 LED lights for each heat level, and the corresponding light illuminates to let you know which setting you're on.
Extended Battery Life
The Solo is powered by a rechargeable Lithium ion battery, and offers extended vaporization. Just one charge will give you 1-2 hours of continuous use. And it takes just 4 hours to recharge.
Automatic Shut Off
Forget to turn your vaporizer off? No problem. The Solo will automatically shut down after 12 minutes of idle time, so you never have to worry about burning your material – or setting your house on fire.
Arizer Solo Instructions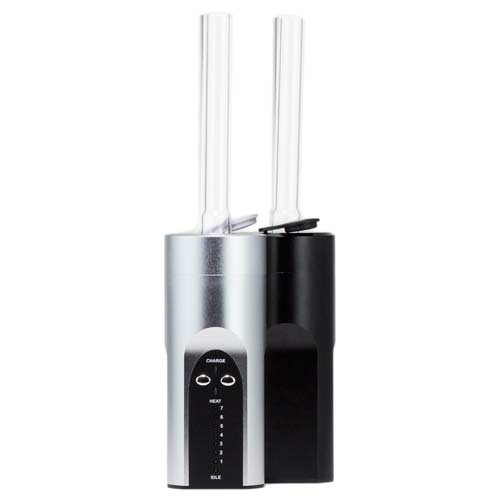 The Solo has an impressive list of features, but is it easy to use? If it's a chore to get your vaporizer loaded and ready to go, you won't want to use it.
The good news is that the Solo is very easy to use.
Here's how it works:
Charge up the battery. You'll see a green flashing light just under the Charge label on the front of the vaporizer. Unplug the vaporizer.
Press the two buttons simultaneously for one second to turn on the device.
Press the left button to adjust the temperature to your desired setting.
While the device is heating up, load up the glass stem. Try not to grind your herbs too finely or pack them when they're too dry, as this makes it harder to keep the material in the stem.
Open the top chamber on the Solo.
Insert the glass stem. You may need to use some gentle force to get it into the chamber.
Take your first draw, and you're good to go.
The Solo's oven design ensures that your herbs are baked evenly, and because the stem's bowl is relatively small, you never have to worry about stirring.
Arizer Solo Accessories
The Solo produces great-tasting vapor on its own, but you can buy accessories to push your vaporizing sessions to the next level – or just change things up a bit.
On Arizer's official online store, you can buy the following accessories:
Arizer Solo stems (curved and straight)
Stem cap pack
Glass aroma dish
Stainless steel stirring tool
Car charger
Power adapter
These accessories are great, but if you do a little digging, you can find even better ones – like the Arizer Solo stealth adapter. This adapter actually works with a cup (small or medium sized), like the ones you get at fast food chains. All you have to do is hide the Solo in the cup (with some ventilation holes on the bottom), and attach the stealth adapter for undetected use when you're on the go.
How Does Arizer Solo Stack Up Against the Competition?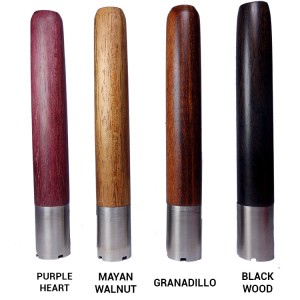 You know how the Solo works, how to use it and which accessories are available. But how does it compare to the competition?
Arizer Solo Vs Air
The Air, also from Arizer, is even smaller than the Solo and incredibly portable. Like the Solo, the Air has a ceramic heating element and glass dishes.
You get about an hour of use with the Air, and you can even use it while it's recharging. You also have the option of being able to use spare batteries.
The Air doesn't have as many temperature settings, and it comes at a higher cost.
The Solo is the better option – but only slightly. It's more affordable, and you have a greater range of temperature settings for a use with more materials.
Arizer Solo Vs Pax 2
The Pax 2 is often called the king of portable vaporizers, and rightfully so. It's small (about 4" tall) and sleek, and it offers advanced features, like a sensor that automatically detects your lips when you go to take a draw.
But the Pax 2 costs significantly more than the Solo, and it only offers four temperature settings.
The Solo wins here, too, because you get more temperature control and you won't have to spend an arm and a leg when you buy it.
Arizer Solo Vs MFLB
The Magic Flight Box (MFLB) is another popular portable vaporizer, and it really does have a beautiful design. Compared to the Solo, it's the cheaper option, but it doesn't offer any temperature control or convection heating.
The Solo is the clear winner here, but if you're on a really tight budget, the MFLB may be your only worthwhile option.
The Solo manages to bring convection heating to a device that's easy to use and gives you quite a bit of control over the temperature. All of this is packed into one compact device that comes at an affordable price. We'd say it's one of the best – if not the best – portable vaporizers out there.
For collectors, the Solo vape is a must have and with the wealth of available accessories this Arizer model looks to last the test of time.