Some may be more inclined to think the Hydrology 9 is a high-tech light saber type gadget than an actual vaporizer, but it's a refreshing innovation that will take your breath away.
The manufacturer calls this a portable vaporizer, but we think the quality design and features takes it well beyond traditional, portable vaporizers.
It's a bit heavy, it's tall and the base is glass so if you are looking for a truly on the go vape, you may be better served on smaller devices.   However, if you are looking for the best quality vapor in the $200ish price point, you have found your answer.
I wouldn't try keeping this unit in my pocket for serious travel.
Moreover, you would be much better off by keeping the Hydrology 9 in a backpack or somewhere that you can hold the unit safely. Glass breaks, but don't let that fool you – this unit is still durable. I've been blown away by this hallmark product.
Optimized to perfection, the Hydrology 9 features:
Food grade chamber
Anodized aluminum body
Glass mouthpiece
2000mAh lithium battery
2 – 3 hour full charge
Lasts 15 full sessions
60-second heat up time
18mm x 10mm chamber
45mm x 175mm dimensions
Liquid filtration system (be amazed)
360-degree leak protection
When you unbox your vaporizer, it will feel like Christmas all over again – it's packed with a bunch of goodies. You'll receive a slew of accessories, including:
USB cable
A/C adapter
Air intake adjustment tool / loading tool combo
2 cleaning brushes
2 extra screens
An entire cleaning kit set is included with your purchase, so you'll have everything you need to get started vaping and to keep your unit clean over the long-term. But that's not the most impressive part of the Hydrology 9 by any means.
[alert-announce]
What this model does better than the competition is filtration and innovation.
[/alert-announce]
It's been designed for the optimization of the user's experience. You'll experience an entirely new level of vaporizing – it's a brand new experience. The materials and features added into this vaporizer have been added for a reason.
No detail has been spared.
Click here to view a complete listing of the Hydrology 9's features.
Hydrology 9 Vaporizer Review

Open the box and be ready for a truly awesome design. You'll find that you have to assemble the unit, but everything is detailed in the instruction manual, which you should read. The manual will provide you with the juicy details to get your vaporizer assembled and ready to use.
Once assembled, you'll notice a few things:
It's simple to put together and disassemble.
The unit stands 7 inches tall or close to it.
The diameter is almost 1.5 inches, so it's thick.
There's a filtration system.
I know, I know: I keep mentioning the filtration system. But this is the key to the pure flavor that you'll experience for the first time. Water filtration allows the vapor to be cooled without any added accessories or costs.
The water will cool the vapor down for you and ensure the taste is crisp.
It's the perfect addition to a vaporizer. But don't let this high-end feature intimidate you. It does come with a ton of small pieces, and there's a slight learning curve. But you'll learn how to use this vaporizer in no time.
Starting with the glass mouthpiece, you'll find that the unit is easy to clean. The glass doesn't hold on to flavors either, so you won't have that initial nasty hit when taking a puff. The mouthpiece is detachable, and it has a one-way valve that will help prevent any spilling from the water.
There's also a cap on the water reservoir along with a glass wall to keep spills nonexistent.
And the pieces include:
Mouthpiece
Water reservoir cap
Base
Oven cover
Glass wall
The glass wall and base are of the most concern when transporting, so you'll want to keep these areas of the vaporizer from hitting any hard or sharp objects.
Ingenuity Where You Don't Expect It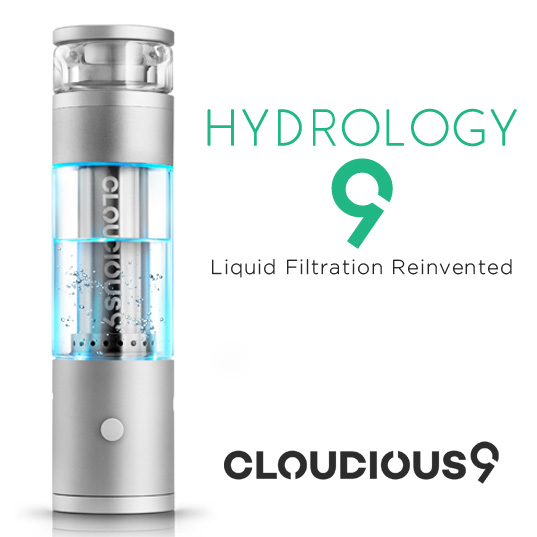 The design team behind the Hydrology 9 deserves a pat on the back for this vaporizer. It's the fine details that help you understand that the design team really "gets it." They understand that vaporizers have been bland and non-innovative for quite some time.
A small feature that shows the attention to detail that goes into this vaporizer is the oven.
What's the big deal about the oven?
It comes with it's own built-in stirring system that rotates, so your herbs are heated evenly and you don't have to open the chamber to mix everything up.
Water filtration allows for the air intake to be cooled, and the draws are pure with a cool, crisp taste. Diffused light is also shined through the water via the LED lights to make a nice, diffused look that's just plain awesome.
But water filtration does come with extra responsibility on your end. The filtration does need to have the water emptied and the tank cleaned.
This is common with all water filtration systems.
If you don't empty the water and clean out the water reservoir often, you'll find that bacteria growth is possible, which isn't something you want to have anywhere near your vapor. For me, the small changes to my routine are well worth the great flavor that's produced with the Hydrology 9.
The mouthpiece features 1/4-inch glass to provide strength and clarity when vaping. The unit has a magnetic cover, which is stronger but easy to remove for proper cleaning. A small and large cleaning brush are included with the cleaning kit, so it's simple and easy to clean your mouthpiece.
There's a positioned ball valve inside of the mouthpiece that allows it to be turned in any direction without fear that the water spilling out.
All herb is heated in an 18mm by 10mm food-grade porcelain chamber that doesn't hold on to the smells or flavors of past sessions and allows for precision heating. The stirring mechanism is accompanied by a microchip processor that will monitor the interior heat of the oven to ensure that herbs are heated evenly during every session.
Adjustments are made in less than a second, so your herb will be heated to perfection.
There are 5 pre-heat settings to pick from, and the unit will heat up in under 60 seconds. You can vape up to 15 sessions with Hydrology before it needs to be recharged (it only takes 2 – 3 hours for a full charge).
Premium build and quality makes the Hydrology 9 one of the industry's best vaporizers, and there's not much to complain about with this model.
The tunnel tube allows for industry-leading water filtration, the spacecraft grade aluminum body is going to last a lifetime, and the entire unit is anti-rust and anti-leak in design. There's also a magnetic cover to protect from dust and spillage.
Pros
Built-in water filtration system
2-year warranty
Stirring system allows for even heating of herb
Anti-leak protection and LED light chamber
Cons
A small downside of the Hydrology 9 is that you'll need to clean out the water chamber often. This is a best practice, and if you have a vaporizer already, you know that cleaning is part of your daily routine.  If you are spending a couple of hundred dollars on a vape, you soon take maintenance serious and always follow cleaning guidelines.
Clean units allow for a cleaner taste.
And the box contains an entire cleaning kit that allows you to take care of your vaporizer without all of the added costs.
Revolutionary in design and aesthetics, the Hydrology 9 looks amazing, functions even better and will be the vaporizer that people talk about for years. The manufacturer has changed the industry, and if water filtration is your thing (I love cool vapor), you can't go wrong with a built-in filtration system.
You've never tasted vapor this good.
It's design perfection.
Click here to purchase the Hydrology 9 directly from the manufacturer